Mango Turmeric Smoothie, aka The Yellow Gazebo Smoothie, is a creamy smoothie that is sweetened with juicy mangoes and flavoured with toasted coconut. The turmeric added to the smoothie creates the vibrant yellow color and has a multitude of health benefits that can be found in my Curry Kale Quinoa Bowl Recipe.
Why Smoothies?
When I work with clients who are looking to clean up their diet, I often recommend they start their day with a smoothie. Smoothies can be made in less than 5 minutes and taken on the go making them super easy to fit into your busy morning routine. They make a great breakfast because they are loaded with vitamins, minerals, protein, fiber and healthy fat.  If you ever find yourself in a smoothie rut, check out my e-Book, The Holistic In The City 21 Day Smoothie Guide which contains 21 smoothie recipes and the secret formula for delicious and nutritious smoothies.
Mango Turmeric Smoothie Video
I created this smoothie to honor the awesome clinic I work at, Yellow Gazebo Natural Health Care! At the clinic I meet with clients one-on-one to help them overcome digestive problems, food allergies, seasonal allergies, low energy, stress, skin issues, joint pain, muscle pain and many other health complaints. Check out this video to get a feel for the clinic and to see how easy it is to make my Mango Turmeric Smoothie!
Mango Turmeric Smoothie Recipe
(vegan, gluten-free, paleo)
Prep time: 5 minutes
Serving size: 1 yummy smoothie
Ingredients:
1.5 cups water
1 cup mango
½ cup unsweetened toasted coconut flakes
1 scoop raw plant-based protein powder
1 Tbsp coconut oil
1 Tbsp golden flax seeds
2 cm cubed of ginger
2 tsp turmeric
½ tsp cinnamon
Directions:
Place all ingredients in a high-speed blender and blend until smooth.
There are so many plant-based protein powders out there it can be confusing. If you are looking for information about different plant-based protein powders, check out this review on
Vegan Liftz
that compares several brands.
.
If you don't have a high-speed smoothie blender check out 
https://kitchenguyd.com/best-blender-for-smoothies/
for this year's top picks and get one today. The reason I stress on a high-speed blender is that if you use a weak blender, you want to grind your flax and coconut in a coffee grinder before adding it otherwise, they will stay whole and the smoothie will be grainy.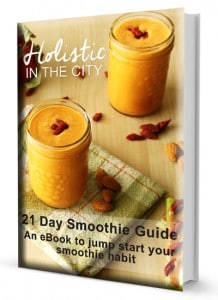 Are you in a smoothie rut making the same old smoothie every morning?
It is easy to throw the same thing into the blender every morning on autopilot, but it can get really boring really fast!
You are also missing out on a variety of vitamins and minerals that come with changing up your ingredients every day.
Holistic In The City 21 Day Smoothie Guide will pull you out of your smoothie rut and jump start your smoothie habit.
---
 Have you tried my Mango Turmeric Smoothie? I would love to hear what you thought in the comments section! If you liked this smoothie please share it with your friends!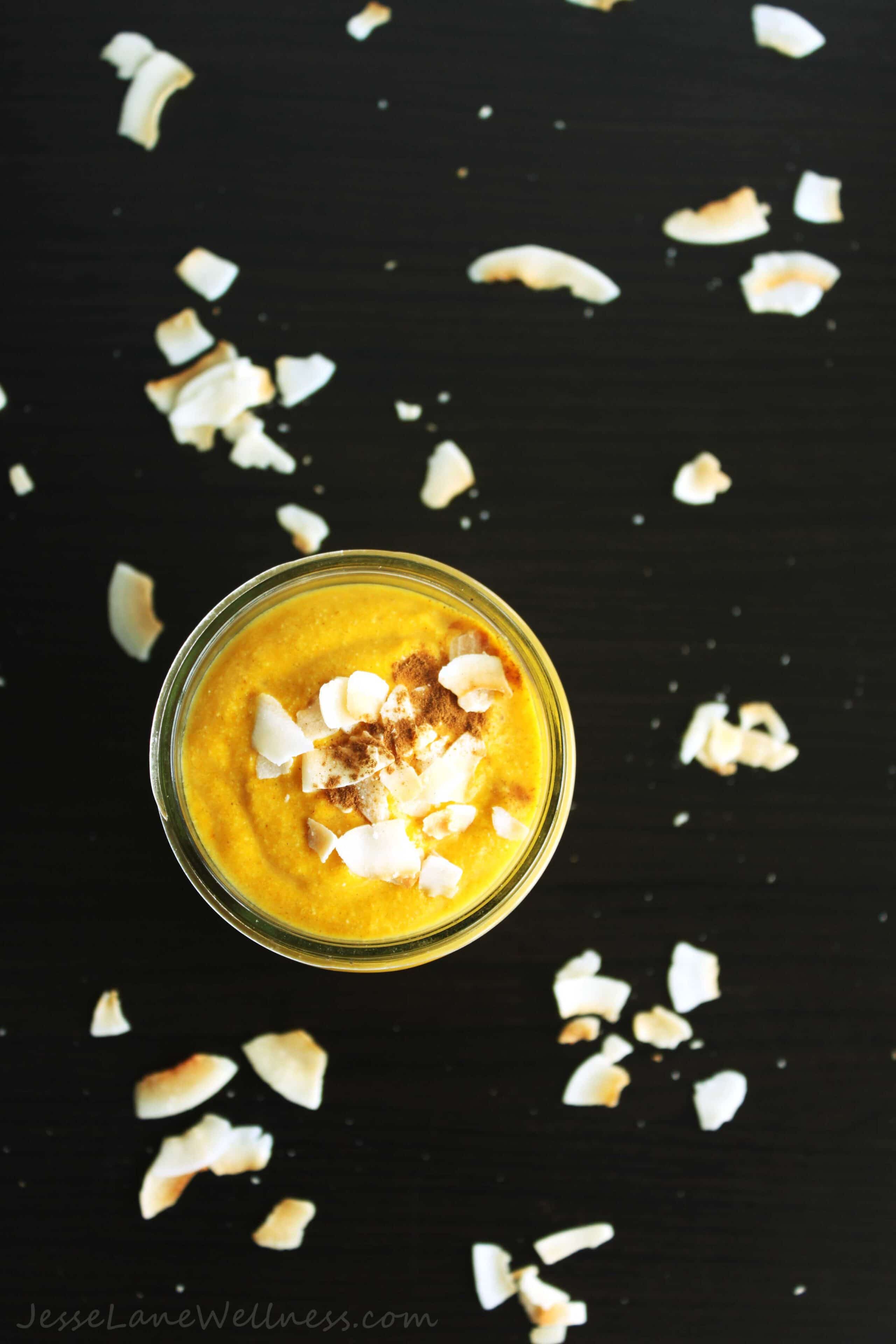 Today's post contains paid links.  If you are interested in sharing your product on JesseLaneWellness.com, please email info@jesselanewellness.com.