I love to play in the kitchen and have created countless holistically delicious recipes that accommodate a wide variety of food allergies, diets and lifestyle choices.
My healthy recipes are made with whole food ingredients that promote health and wellness.
Most of my cookbooks are available in digital format and print.
Browse the cookbooks below and click to learn more
Have you ever found yourself thinking "I need to be more creative with veggies"?
This is a common complaint I hear a lot from my clients and readers.
Everyone knows they need to be eating lots of veggies, but the thought of eating another salad made with lettuce from a bag and store bought dressing makes everyone want to yawn with boredom.
That is why I created Healthy Fresh Salads. It contains over 30 exciting and fresh gluten-free salad recipes. The recipes are all "fresh", not only are they created using fresh veggies, but they are also inspired, creative and anything but boring.
Are you looking for a nutrient-dense meal that is super cheap?
Soup is a super inexpensive way to get more veggies and nutrients into your diet. It is packed with healing herbs that can reduce inflammation, ease digestion, and provide antioxidant support. Studies have found that soup consumption can even help with weight management!
Jesse Lane Wellness Cookbook: Healthy Homemade Soups & Sandwiches contains over 30 holistically delicious soup and sandwich recipes (with stunning images) that are easy to prepare.
It also contains information of how to properly freeze and reheat soups, explains the downfalls of canned soups, and provides the nutritional breakdown of fresh, frozen and canned veggies.
Do you want to have your cake and eat it too? Now you can!
Jesse Lane Wellness Cookbook: Healthy Dairy Free Desserts contains over 30 holistically delicious dessert recipes (with stunning images) that you can enjoy guilt-free!
All of the unique recipes are nutritionist approved, made with whole food ingredients and do not contain any soy, dairy, white flour or processed sugar.
Jesse Lane Wellness Cookbook: Healthy Dairy Free Desserts also contains a guide to healthy baking substitutes and alternative sugars, so you can learn how to turn your family favourites into healthy desserts.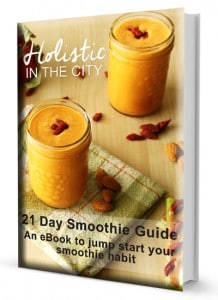 Want to jump on the smoothie bandwagon but don't know where to start?
Recently, smoothies have been all the rage with everyone and their grandma making them in effort to improve their health. The problem is you might be making common smoothie mistakes and creating a drink that is not only unhealthy but contributing to weight gain!
Holistic in the City 21 Day Smoothie Guide contains 21 delicious smoothie recipes made with love by 7 Holistic Nutritionists. It also has lots of information including our basic smoothie formula, the answer to the age-old debate of juicing vs smoothies and what to look for when buying protein powder.
Get Naked in the Kitchen: Healthy Recipes That Are Proud To Bare It All
The Author, Briana Santoro, has pulled together the best experts in the industry to share their passion for food.
By all coming together in one cookbook we show people that there isn't one right way of eating and that choosing what to eat doesn't need to be complicated. We inspire you to listen to your inner expert to find the way of eating that works for you! We are all individuals.
When we eliminate the judgement, the confusion, and the pressure, we create space to have a relationship with food that is powerful and vivacious! Doesn't that sound amazing?
Get Naked in the Kitchen: Healthy Recipes That Are Proud To Bare It All gives you the space and tools to create that relationship.