Have you guys tried cold brew iced tea yet? I just recently learned about it and have been obsessed! As you know I'm a tea addict and I still do drink hot tea in the summer, but sometimes it is nice to have a cold refreshing drink.
Cold brew iced tea is perfect because you really can't screw it up by over steeping the tea because you forgot about it when your baby decided to play in the toilet… true story. It doesn't get bitter the same way hot steeped tea does. You can literally forget about it for two days and it will still taste good.
Cold brew iced tea also contains less caffeine so you can enjoy it later in the day. It tends to work well with green tea and that is what I have been using in my cold brews.
Health Benefits of Green Tea
I love green tea because it is loaded with antioxidants and has so many health benefits.
Green tea is rich in a plant compound called polyphenols which is an antioxidant that reduces inflammation and helps fight cancer.
It contains the amino acid L-theanine which works with the small amounts of caffeine found in green tea to improve brain function.
The catechins in green tea may inhibit the growth of bacteria which reduces bad breath.
The consumption of the flavan-3-ols and antioxidants found in green tea are beneficial for cardiovascular health.
Studies show that the catechins and a compound called EGCG found in green tea may promote metabolic health and modestly prevent weight gain.
Green tea contains caffeine which will give you a bit of an energy boost.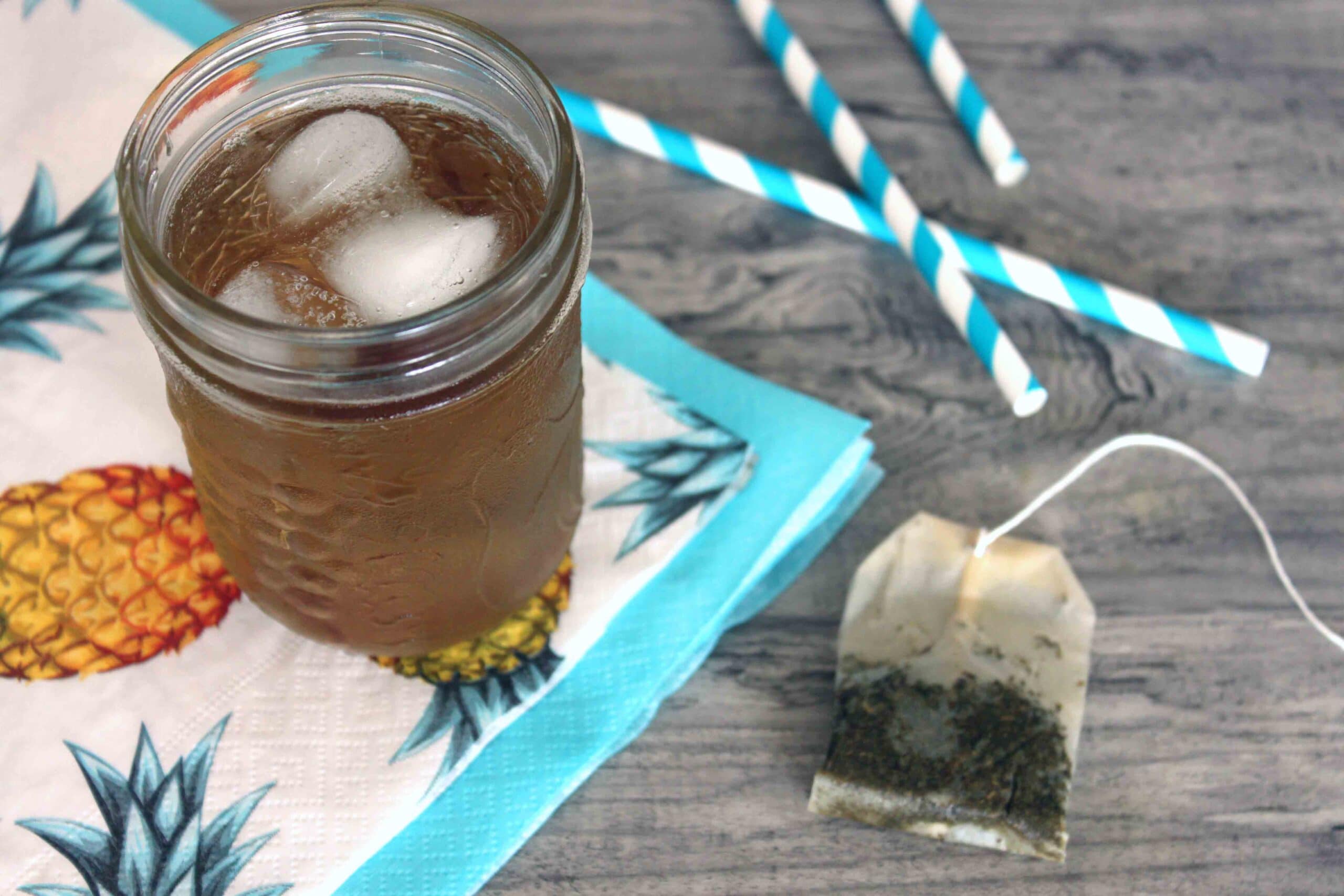 Much of the energy available to us comes from the food we eat. The Standard American Diet (SAD) has been demonstrated to provide poor energy. Low energy can be caused by a number of factors including anemia, hormone imbalance, dehydration, poor diet or nutrient absorption, as well as more environmental factors such as stress and poor sleep. These issues can present as further complications like food allergies, candida, thyroid dysfunction and adrenal fatigue.
The good news is that changing your eating habits can help heal and prevent your health issues starting right now.
In my Eat Clean for Energy course, I will show you how to cook and eat foods to naturally boost your energy and maintain and build on that energy long-term.
Register HERE and use code JESSESAVES for $75 off.

Cold Brew Iced Tea
(vegan, gluten-free, nut-free, soy free)
Prep time: 1 minute | Chill time: 8 hours | Serving Size: 1
Ingredients
1 tsp green tea in a pouch or one tea bag
2 cups filtered water
Optional cold brew iced tea flavour enhancers: mint, basil, lemon, lime, cucumber, berries, etc…
Directions
Place tea bag/pouch in a 2 cup mason jar and add the flavour enhancer of your choice.
Fill the far with water and screw on the lid. Place in the fridge for 8 hours or more to cold brew.
NOTE: personally I don't add sweeteners to my iced tea, but if you like a sweeter tea, you can add 1/2 tsp maple syrup.
Want another iced tea recipe?