Liver Detox Smoothie Recipe
Liver Detox Smoothie is extremely refreshing, it has a warming spiciness from the ginger, a sweetness from the beet and a sourness from the lemon. It is one my of favourite smoothies from the Holistic in the City 21 Day Smoothie Guide because it is not a super sweet smoothie. Liver Detox Smoothie is the perfect smoothie to help you recover from a night out on the town because it promotes the detoxification process in the body.
Health Benefits of Beets
I love beets, they are such a beautiful color and have a delicious sweet earthy flavour. They are also bursting with nutrients that offer a multitude of health benefits.
Beets get their vibrant colour from phytonutrients called betalains that help with phase 2 liver detox
Beets are high in antioxidants that are not usually found in other fruits and vegetables
Beets contain anti-inflammatory compounds that have been studied within the context of heart disease
Beets are high in a particular type of fiber that provides support for the digestive tract and contributes towards the prevention of colon cancer
Beets are an excellent source of folate, the B vitamin that is very important in the prevention of birth defects
Beets also contain high amounts of manganese, potassium and copper
The Holistic in the City 21 Day Smoothie Guide virtual book tour was so much fun, I hope you enjoyed it as much as I did! If you missed any of the stops on the tour, you can get caught up on the 21 Day Smoothie Guide Virtual Book Tour here. I also wanted to thank everyone who participated in the tour with a great big thank you to Jefferon, Andrea, Nikole, Briana, Seanna, Chloe and Suzanne.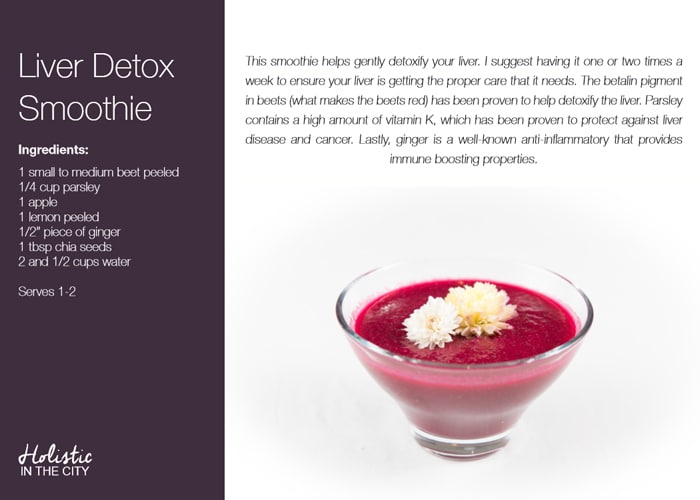 Liver Detox Smoothie
Author:
Prep time:
Total time:
This smoothie helps gently detoxify your liver. The pigment that gives beets their deep and beautiful red color has been proven to help detoxify the liver. Parsley contains a high amount of vitamin K, which has been proven to protect against liver toxins and cancer. Lastly, ginger is a well-known anti-inflammatory that provides immune boosting properties.
Ingredients
2 1/2 cups water
1 small to medium beet, peeled
1/4 cup parsley
1 apple
1 lemon peeled
1/2″ piece of ginger
1 Tbsp chia seeds
Instructions
Place all ingredients into a blender and blend until smooth!
Have you tried any of the smoothies from the Holistic in the City 21 Day Smoothie Guide? I would love to know what your favourite is in the comments section!