Pretty in Pink Roasted Beet Hummus
Pretty in Pink Roasted Beet Hummus is my new favourite appetizer because it is so pretty! Pink is one of my favourite colours, hence the reason I have it in my logo and website. Roasted beets give this traditional hummus base an earthy and sweet undertone. Hummus is a delicious snack because it is really quick to make and you can dip just about anything in it. Chickpeas and beets are both an excellent source of fibre that provides support for the digestive tract.
I'm made my roasted beet hummus live on Breakfast Television during a Valentine's Day theme segment called My Heart Beets for You! I also made my liver detox smoothie from the 21 Day Smoothie Guide. I shared my beet cake recipe (which I'm so excited about!), Ginger Kale Beet Salad, and a simple roasted beet salad.
Health Benefits of Beets
Beets contain anti-inflammatory compounds that have been studied within the context of heart disease.
They are an excellent source of fibre that provides support for the digestive tract.
Beets are an excellent source of folate, the B vitamin that is very important in the prevention of birth defects and contributes to energy production.
The vibrant colour in beets comes from phytonutrients called betalains that help with phase 2 liver detox.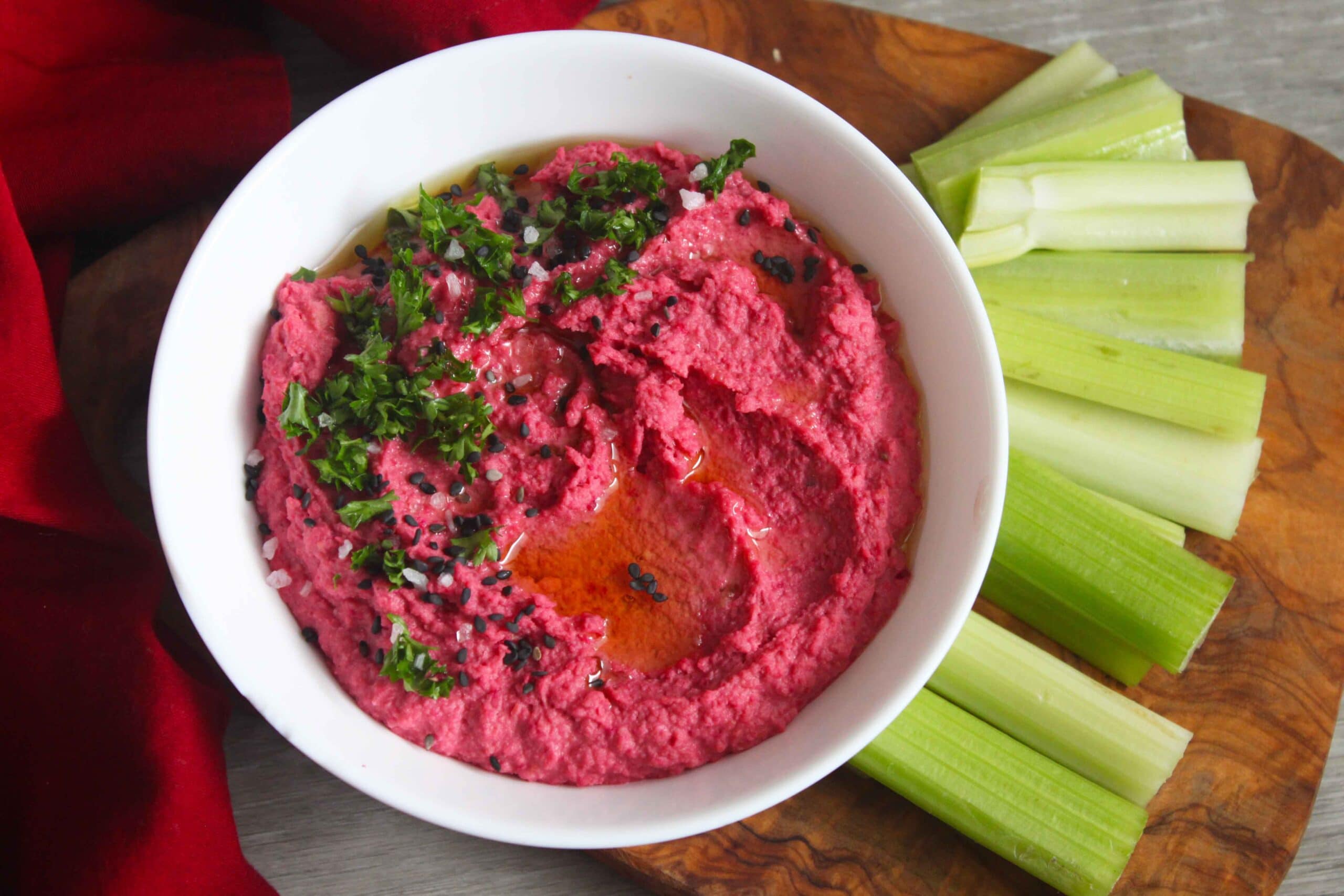 Pretty in Pink Roasted Beet Hummus
(gluten-free, vegan, dairy-free, nut-free)
Prep time: 15 minutes | Cook time: 1 hour and 15 minutes
Ingredients:
1 small beet, peeled and stem removed
2 garlic cloves
19oz (540ml) cans of chickpeas drained
1/4 cup lemon juice (1 lemon)
4 Tbsp tahini
2 Tbsp olive oil
1 Tbsp cumin
Salt and pepper to taste
3-6 Tbsp water
Directions:
Preheat the oven to 375F. Place the beet in foil, drizzle with avocado oil, wrap, and roast for an hour and fifteen minutes or until tender. Set aside to cool.
Dice the beet and place it in a large food processor with the garlic. Pulse until it is coarsely chopped.
Add chickpeas, lemon juice, tahini, olive oil, cumin, salt and pepper and process until smooth. Water will make the hummus creamier, therefore add it slowly until the desired texture.