Tomato Avocado Salad Video
I'm so excited to join up with my friend Andrea Ashley to bring you a three-part Salads and Skin Care Series! Today we show you how avocados and basil can help protect your skin from the summer sun.
In this video, I show you how to make a quick and delicious tomato avocado salad that will refresh your skin after a day in the sun. For skincare for the sun, Andrea Ashley makes a nourishing summer face oil. Scroll down for the recipes.
Salads and Skin Care Video # 3 – Summer Sun Protection
Watch the video to the end to see some silly outtakes!
Avocado Skin Nourishing Properties
High in vitamin E which nourishes the skin from the inside out helping to reduce skin damage
Powerful antioxidant that reduces the wrinkles caused by sun damage
Full of healthy fats that moisturise the skin and reduce inflammation
Avocado oil is rich in vitamins A, B, E, amino acids and can help support and prevent damaged skin and minimise sun damage
When applied topically it is calming to the skin and great for dry skin
Tomato Avocado Salad
(gluten-free, vegan, paleo)
Prep time: 5 minutes | Serves: 2 sides
Ingredients
1 big tomato, diced
1 avocado, diced
6 big basil leaves, chiffonade
1 Tbsp olive oil
1 Tbsp balsamic vinegar
Salt and pepper to taste
Directions
Place all tomato avocado salad ingredients in a bowl and gently toss to mix.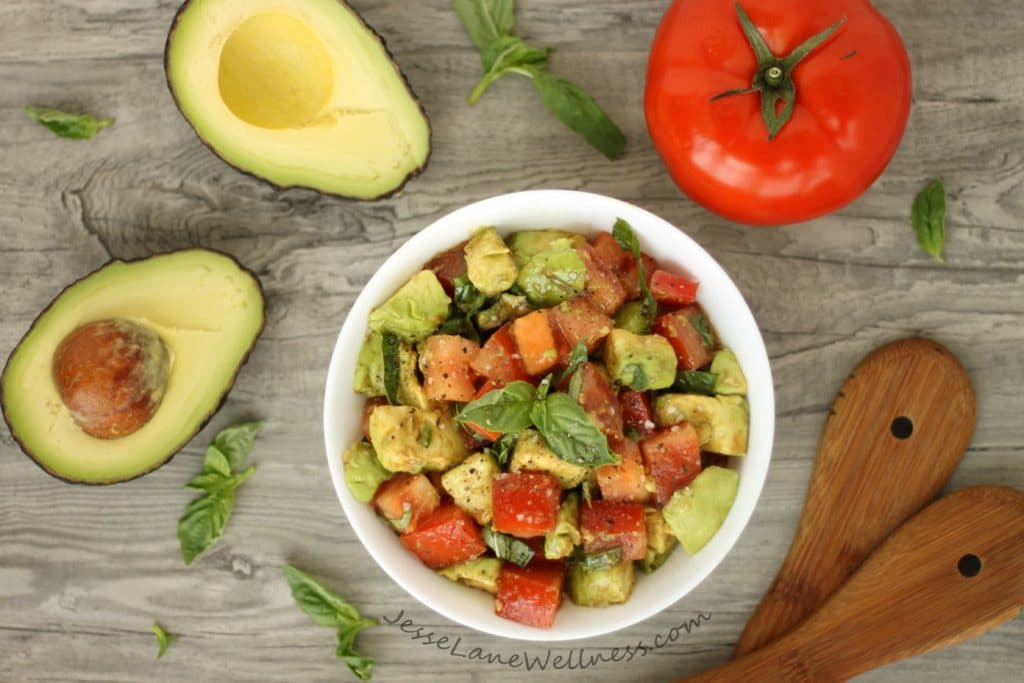 If you are looking for more delicious salad recipes then I have you covered!
My cookbook Healthy Fresh Salads contains over 30 recipes that will get you excited about salads and veggies again! Healthy Fresh Salads is for you if:
You want to start making healthier choices for yourself and your family but don't want to eat boring and tasteless "health food"
You are looking for great recipes so you can mix things up and not serve the same dishes all the time
You have lots of picky eaters in your house who say they won't eat healthy meals
You follow a gluten-free diet and or know someone with celiac who you want to be able to make yummy meals for
Your biggest barrier to cooking healthy meals is cost because you think fresh produce is expensive.
You want to learn more about which fruits and vegetables are the healthiest and why
Refreshing Summer Face Oil Recipe
There are many ways you can go with making a nourishing summer face oil and it really depends on your skin type, concerns, and needs. Since we are doubling down on salad ingredients, Andrea Ashley used basil essential oil. Basil essential oil is good for congested skin and coincidentally as this is a summer time oil, is also good for insect bites. Sweating can cause acne and congestion so this oil is a great fit for the summer.
Take 25ml of avocado oil and add just 3 drops of basil essential oil and mix thoroughly. Apply in evening and pat into the skin.
If this particular face oil or face mask does not seem to fit you for your acne needs, you can always reach out to hello@andreaashley.ca and Andrea Ashley would be happy to advise the best oils for your skin- providing either a custom DIY recipe with supplies or creating a custom product fresh to order. If you want more, subscribe to her free online magazine for holistic custom skin care and aromatherapy tips and recipes!
Tomato Avocado Salad Recipe + Video
Author:
Jesse Lane Lee, CNP
Tomato Avocado Salad is perfect for the summer. It is packed with ingredients that will nourish your sun-kissed skin from the inside and out.
Ingredients
• 1 big tomato, diced
• 1 avocado, diced
• 6 big basil leaves, chiffonade
• 1 Tbsp olive oil
• 1 Tbsp balsamic vinegar
• Salt and pepper to taste
Instructions
Place all ingredients in a bowl and gently toss to mix.