Oatmeal Eggnog Cookies are a delicious way to capture that irresistible holiday flavour. They are soft and chewy with that warm nutty nutmeg flavour. If you are an eggnog lover, then you will love these cookies. Oatmeal eggnog cookies don't actually contain eggnog, they are vegan and also gluten-free!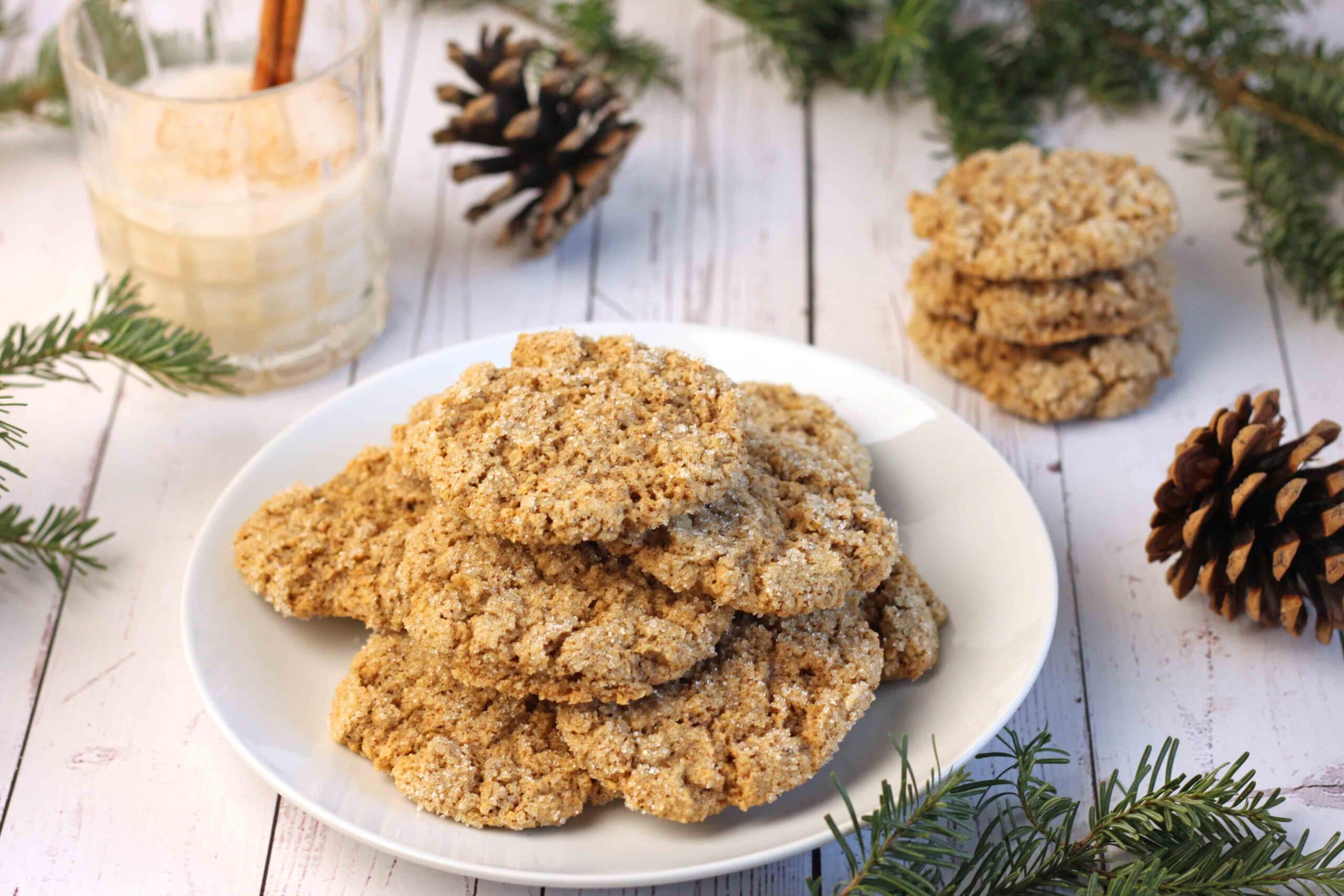 I usually share candy cane desserts over the holidays, but this year I decided to change it up with these oatmeal eggnog cookies. If you are a candy cane lover, you will love my Candy Cane Blondies, Candy Cane Black Bean Brownies and Candy Cane Bark!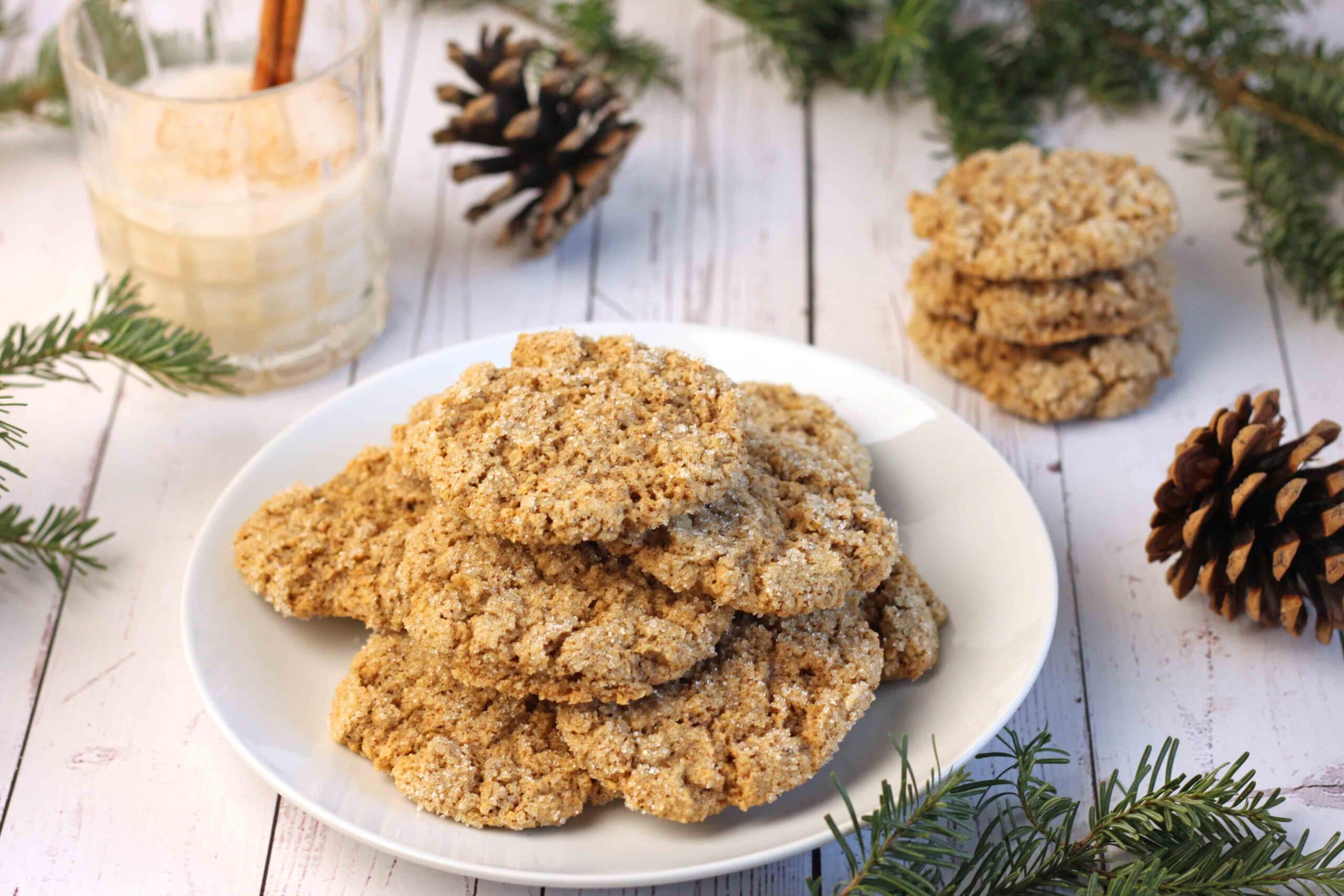 Get more Healthy Dairy Free Desserts
My cookbook Healthy Dairy Free Desserts contains over 30 holistically delicious dessert recipes (with stunning images) that you can enjoy guilt-free! It is available in both softcover and digital.
Get the digital version for only $7.99!
All of the unique recipes are nutritionist-approved, made with whole food ingredients and do not contain any soy, dairy, white flour or processed sugar. Healthy Dairy Free Desserts also contains a guide to healthy baking substitutes and alternative sugars, so you can learn how to turn your family favourites into healthy desserts.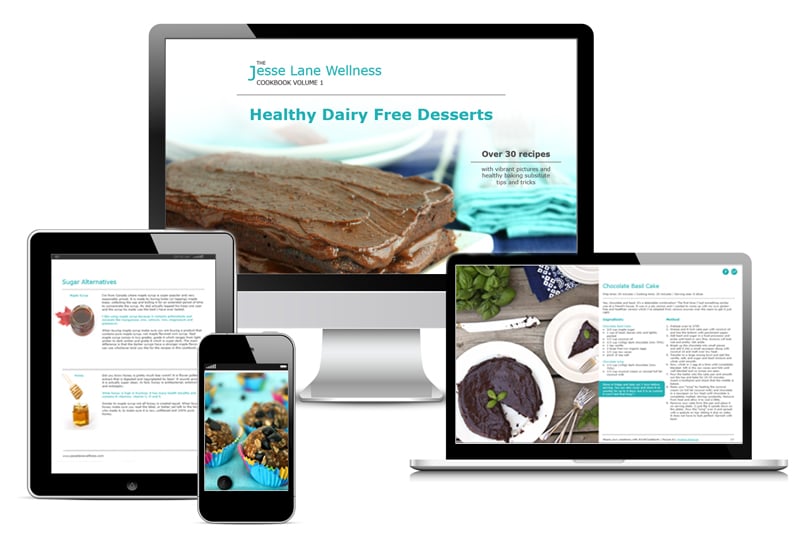 Oatmeal Eggnog Cookies Recipe
gluten-free & vegan
Prep Time: 10 minutes | Chill time: 30 minutes | Cook time: 10 minutes | Serving size 12
Ingredients:
1.5 cups gluten-free rolled oats, processed into flour (or 1.5 cups oat flour)
1/2 cup coconut sugar + ¼ cup for rolling
1 teaspoon nutmeg
½ tsp cinnamon
1/2 teaspoon baking soda
1/2 teaspoon baking powder
1/4 teaspoon fine grain sea salt
1 egg
1/4 cup virgin coconut oil, melted
2 tbsp almond butter
1 tsp vanilla
Directions:
In a large bowl, mix together the oat flour, coconut sugar, nutmeg, cinnamon, baking soda, baking powder and salt.
In another bowl whisk together the egg, coconut oil, almond butter and vanilla.
Pour the wet ingredients into the dry and stir until mixed.
Place the dough in the fridge to chill for 30 minutes.
Preheat oven to 350F and line a large baking sheet with parchment paper.
Remove the dough from the fridge and shape into 12 small balls. Roll in sugar, place on the baking sheet, and gently press down until they are ½ inch thick.
Bake oatmeal eggnog cookies for 10 minutes until the cookies spread out nicely.