Orange Rosemary Olive Oil Cake
Orange Rosemary Olive Oil Cake is perfect for the holidays, especially Chanukah! I love the combo of peppery olive oil, sweet and zesty orange and woody rosemary. This olive oil cake has a unique fruity and peppery flavour from olive oil. Olive oil is anti-inflammatory and a great alternative to butter in baking.
If you are looking for more dairy-free dessert recipes, check out my cookbook Healthy Dairy Free Desserts!
Can dessert recipes actually be healthy?
Let's be serious, dessert is still dessert, but Healthy Dairy Free Desserts contains yummy, dairy free dessert recipes that are so healthy you can enjoy them for breakfast!
They are made using whole food ingredients that nourish your body and leave you feeling light and energized.
The dairy free desserts in this cookbook are also high in fibre, an important nutrient that slows down the release of sugar into the bloodstream. This helps avoid a sugar high, which is inevitably followed by a crash. Fibre basically makes sure your energy levels stay balanced.
In this cookbook, I teach you how to satisfy your sweet tooth without the guilt!
Use my healthy baking substitutes and guide to sugar alternatives to turn your favourite dessert recipes into healthy treats. With this knowledge, you will never have to use refined sugar or flour again!
Orange Rosemary Olive Oil Cake Recipe
(dairy free)
Prep time: 15 minutes | Cook time: 50 minutes | Serving size: 12-16
Ingredients
1 cup olive oil
5 cups coconut sugar
½ cup orange juice
½ cup almond milk
2 eggs
1 tsp vanilla
5 cups spelt flour
2 tsp baking powder
½ tbsp chopped rosemary
1 tbsp orange zest
Orange Glaze
1/3 cup coconut butter
2 tbsp pure maple syrup
2 tbsp unsweetened orange juice
Directions
Pre-heat oven to 300F. Grease a bunt pan with coconut oil and lightly coat with flour and set aside.
In a large bowl, beat olive oil and sugar. Slowly add in eggs until thick. Add orange juice, almond milk, and vanilla and beat until combined.
In a medium bowl mix spelt flour, baking powder, rosemary and orange zest.
Slowly add the dry mixture to the wet mixture and beat until combined.
Pour into the pan and bake in the oven for 50 minutes or until the top is golden and a toothpick inserted in the centre comes out clean.
To make the glaze, blend together the coconut butter and maple syrup until smooth. Add the orange juice ½ tbsp at a time until you reach your desired consistency. If it is cold where you are, gently heat the coconut butter before blending.
Let the rosemary orange olive oil cake cool for 30 minutes, drizzle with orange glaze and top with orange zest.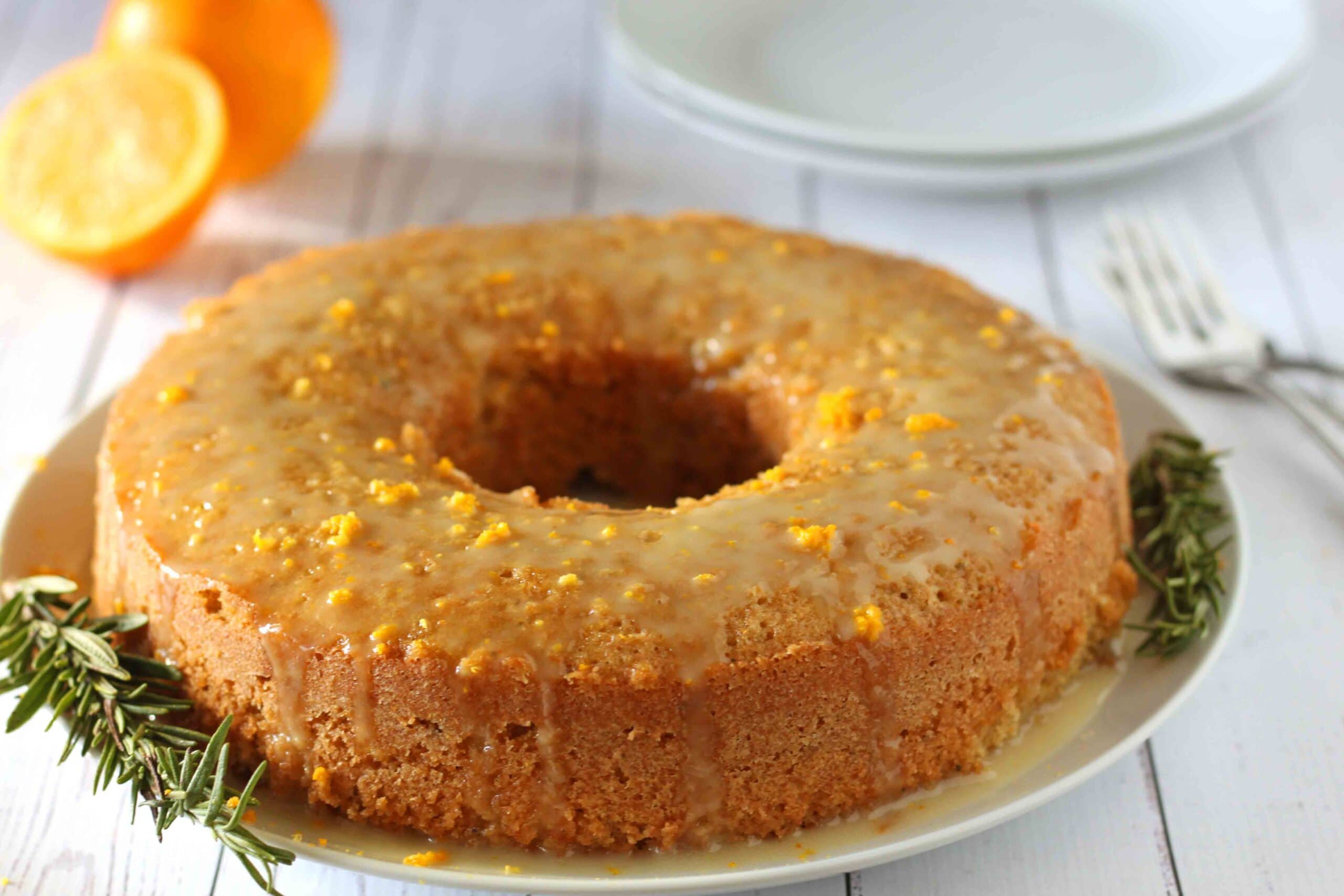 PS I talked about this cake and the benefits of olive oil on CH Morning Live! Check out the segment here.