Healthy Chocolate Recipes on TV
I am a chocoholic so you can imagine how happy I was when I learned that chocolate can actually be healthy! No, I'm not talking about the regular chocolate bars you find at the corner store, and I'm not even talking about dark chocolate. I'm talking about raw cacao!
During my segment on Breakfast Television, I explain the health benefits of raw cacao. I also show you how to make decadent Raw Black Forest Brownies my cookbook Healthy Dairy Free Desserts and talk about four other healthy chocolate recipes. The segment originally aired on March 31, 2017.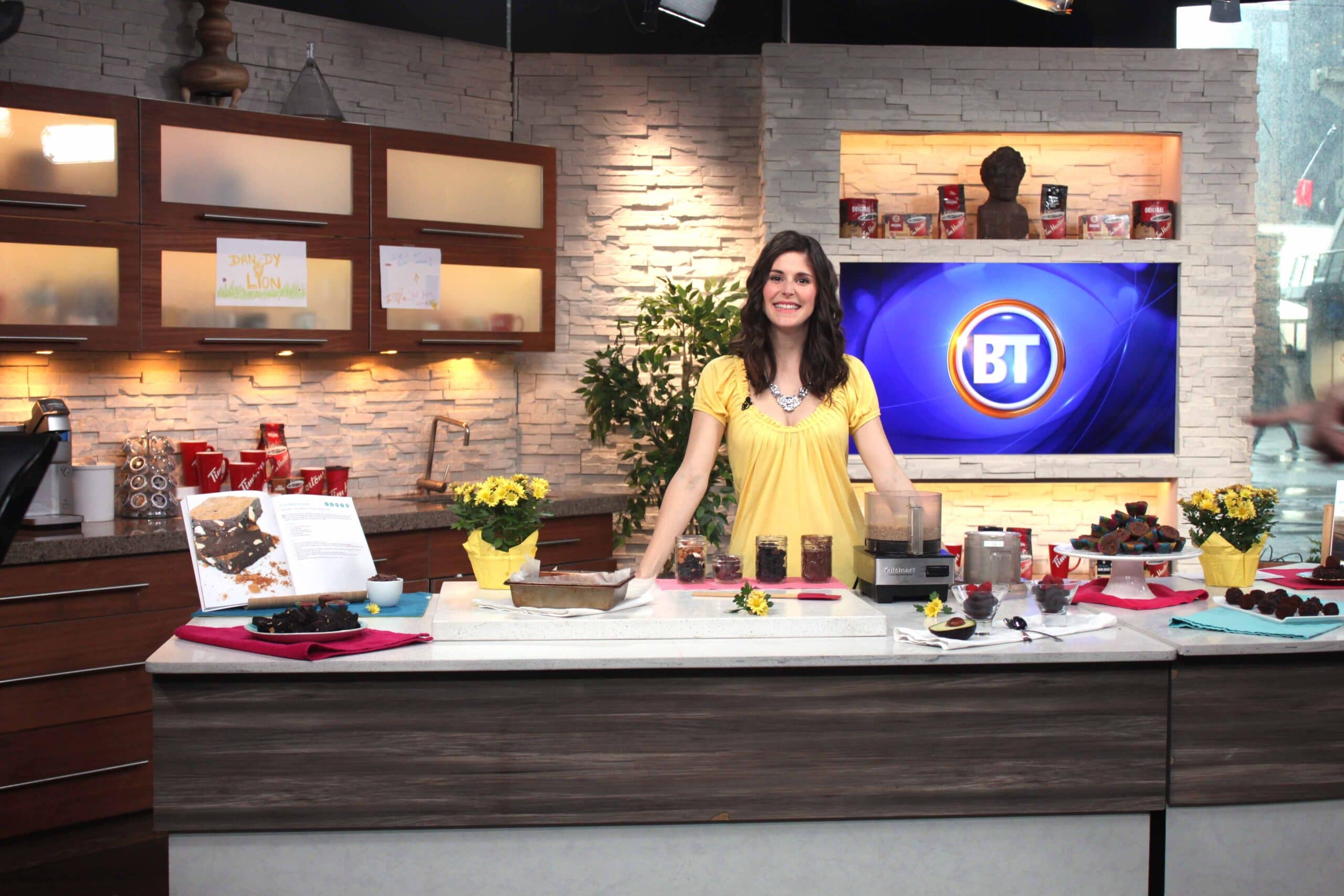 Health Benefits of Chocolate
Yes, chocolate can actually be healthy when you enjoy it in raw cacao form and when you use it in recipes that don't contain processed ingredients. Health benefits include:
High in magnesium which is perfect for sore muscles, relaxation, and strong bones
Contains lots and lots of antioxidants that fight ageing and help prevent cancer
Makes you feel happy because it contains phenylethylamine (PEA)
Healthy Chocolate Recipes
Dark Chocolate Chilli Bites
These are like one bite brownies with a kick of spice! The great thing about this healthy chocolate recipe is that the measurements don't have to be exact, so don't worry about fussing over whether you have added too much chocolate or not enough coconut oil.
Get the recipe in my cookbook Healthy Dairy Free Desserts.
Raw Blackforest Brownies
A decadent chocolate cherry dessert that is gluten free, paleo and raw vegan. Naturally sweetened with dates and cherries which create a smooth and rich brownie filled with crunchy almonds and chewy cherries for added texture.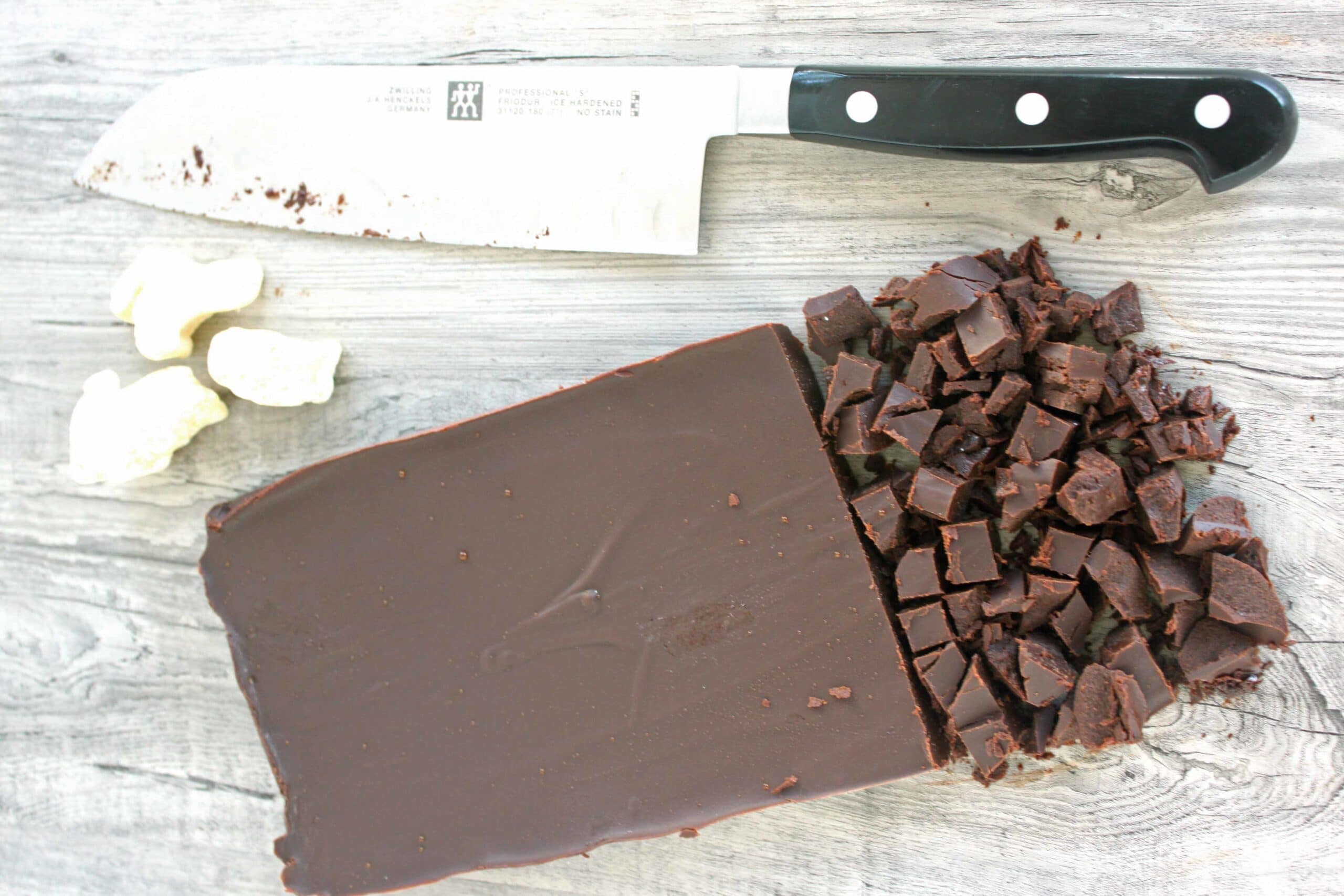 Homemade Chocolate Bar
Making your own chocolate bar is really easy and you can control what kind of sugar you use! The main ingredient in this recipe is raw cacao butter which is the oil or fat that is extracted from the cacao bean over low heat. It is a source of healthy fats and antioxidants that help improve mood, memory and support the immune system.
Get the recipe in my cookbook Healthy Dairy Free Desserts.
Avocado Chocolate Pudding
This thick and creamy healthy chocolate recipe tastes indulgent, but it is actually healthy. It tastes just like instant chocolate pudding in a good way – you would never guess the main ingredient is avocado! It is super easy to make because you just blend all of the ingredients in a blender et voila!
Get the recipe in my free Guide to Natural Sugar Substitutes.
Superfood Choco Truffles
These truffles are rich and super quick and simple to make. They are bursting with superfood goodness like walnuts, goji berries, raw cacao, and coconut oil.
Get the recipe in my cookbook Healthy Dairy Free Desserts.
Healthy Dairy Free Desserts is for you if:
You want even more healthy chocolate recipes
You want to start making healthier choices for yourself and your family but don't want to give up desserts
Dairy makes you bloated and gassy or causes skin issues like acne or eczema
You are sensitive or allergic to dairy and have really been struggling to cut it out of your diet
You seriously miss desserts and can't buy store bought desserts because of food allergies
Someone you know is lactose intolerant and you want to be able to bake dairy free desserts for them
You want to learn more about baking with alternative healthy ingredients
You are looking for simple recipes that can be quickly whipped up to combat sugar cravings
You find it disappointing to be at family gatherings and parties with friends and not enjoy the same treats