Guide to Natural Sugar Substitutes – Get it for FREE!
Are you on a weight loss diet but finding you really miss desserts?
I'll teach you how to have your chocolate without pudding on weight.
My 15 page Guide to Natural Sugar Substitutes reveals my top sugar substitutes and teaches you how to use them to turn your favourite desserts into healthy treats. It also contains bonus recipes from Jesse Lane Wellness Healthy Dairy Free Desserts.
Often times when you are told to lose weight the first thing you do is start shopping for sugar-free versions of your favourite foods. The most well-known artificial sweetener is aspartame which is found in tons of products.
Here is a list of products containing aspartame that could be in your cupboard:
Sugar-free ice cream
Sugar-free cookies
Pudding
Candies
Instant cocoa mix
Tabletop sweeteners
Sugar-free chocolate syrup
If you find the foods listed above in your cupboard it is not your fault, marketers tricked you into thinking you were buying something healthy.
The sugar-free versions of your fav foods may have half the calories of the original foods, but it comes at a high cost – your health.
Studies show that aspartame can cause mental disorders, cancer and headaches or migraines. Scroll down to the bottom of this post for references.
Even crazier is that aspartame is marketed as a diet food for weight loss when in fact studies have shown it causes weight gain!
When you eat something sweet your body gets ready (and excited) for the sugar it is about to receive. When all it gets is an artificial sweetener, it is not satiated and continues to crave more sugar and carbs. This causes you to reach for sweet treats full of empty calories to satisfy a craving that artificial sweeteners can never fill.
My 15 page Guide to Natural Sugar Substitutes teaches you all about the nutrient profile of my favourite sugar substitutes, so not only are you satisfying that sweet craving with something meaningful, but you are also nourishing your body with the vitamins and minerals it craves.
Sign up to get a FREE copy of my Guide to Natural Sugar Substitutes!
Bonus Recipes!
My Guide to Natural Sugar Substitutes also contains 4 bonus recipes from Jesse Lane Wellness Cookbook: Healthy Dairy Free Desserts! I added these because I wanted to show you how easy it is to incorporate my favourite natural sugar substitutes into yummy desserts.
The bonus recipes include:
Raw Blueberry Cheesecake – Made with a chewy gluten-free date and pecan base that is topped with creamy vegan blueberry cashew cream cheese that tastes just like the real thing!
Chocolate Avocado Pudding – Taste just like instant chocolate pudding in a good way – you would never guess the main ingredient is avocado!
Chocolate Almond Tarts – Melt-in-your-mouth and packed with healthy fats, lots of protein and sweetened with stevia making them a delicious guilt free dessert.
Carrot Cake Cupcakes – Traditional carrot cake flavors with coconut cream cheese icing tricks people into thinking there is actually cream cheese in there.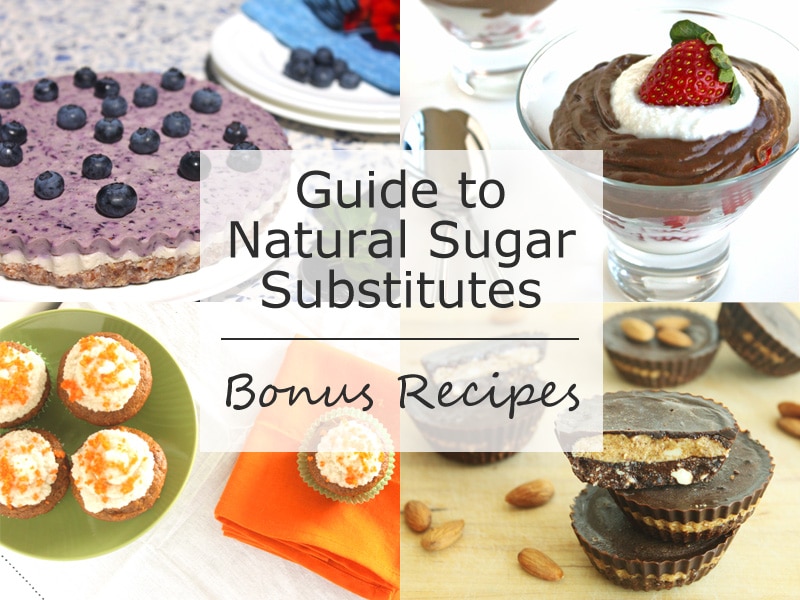 Another bonus!!!
You will receive my weekly newsletter where I share personal insights, healthy recipes, product reviews, giveaways and wellness tips. My vibrant newsletter will empower you and help you navigate the web of information so you can make informed decisions that will leave you feeling amazing and bursting with energy.
All of this goes straight to your inbox, for free!
In addition, I will send you a time sensitive discount code that you can when you purchase Jesse Lane Wellness Healthy Dairy Free Desserts!

References:
http://www.newmediaexplorer.org/sepp/aspartamebrain.pdf
http://www.ncbi.nlm.nih.gov/pmc/articles/PMC1964906/
http://www.neurology.org/content/44/10/1787.abstract?ijkey=4b59bcfcba6c01af70844762469ca00f7f358c5f&keytype2=tf_ipsecsha
http://www.ncbi.nlm.nih.gov/pmc/articles/PMC2892765/?tool=pubmed
Check out Mercola.com for a comprehensive list of studies.