Your Top 6 Posts From 2015
I had so much fun looking through the top 6 posts from 2015. I was also pleasantly surprised to learn that your favourite and most popular posts were all recipes! I just love playing in the kitchen and creating healthy and delicious recipes for you and your family.
If there are any recipes you would like to see in 2016 I would LOVE to hear from you! I'm always looking for inspiration and getting it from you would be amazing. If you have any recipes that are family favourites but are not healthy, email them to me at info@jesselanewellness.com. I'll choose a couple to healthify and share with you on JesseLaneWellness.com.
Here are your top 6 posts from 2015
Roasted Curry Cauliflower Recipe
Roasted Curry Cauliflower is something I like to make when I'm looking for a quick and delicious side dish. It is ready in less than 30 minutes and is bursting with earthy and bright curry flavour. Roasted Curry Cauliflower is also gluten free, vegan and paleo! Get the recipe here.
Rainbow Salad with Tahini Dressing
Rainbow Salad with Lemon Tahini Dressing is bursting with phytonutrients because it packed with colourful veggies like red sundried tomatoes, orange carrots and peppers, yellow beets, green cucumber and avocado, and black olives. This rainbow salad is nestled on a bed of baby greens and topped with a tangy lemon tahini dressing that is creamy and vegan. Get the recipe here.
Chocolate Monkey Power Smoothie
Get back on track this year with my Chocolate Monkey Power Smoothie! I created this yummy power smoothie for Downright Domestic viewers who are on the go and love staying active. The segment aired on Rogers TV in December, but if you missed it you can watch it and get the recipe here!
Healthy Homemade Granola
Healthy Homemade Granola is wholesome, nutritious and delicious! Granola is, in my opinion, the perfect breakfast staple. Healthy Homemade Granola is a great way to start your morning because it's full of protein and crunchy goodness. It's really easy to make and is so much better than the store bought stuff because it is preservative free and naturally sweetened with maple syrup and fiber-rich dates. Get the recipe here.
Gooey Gingerbread Protein Balls
Gooey Gingerbread Protein Balls are the perfect post-yoga or post workout snack. They taste just like dessert because they have all the deliciousness of gingerbread with an added protein punch. Gooey Gingerbread Protein Balls are made with sweet dates, iron-rich molasses, protein powder, crunchy nuts and warming spices. Get the recipe here.
Superfood Trail Mix Recipe
Superfood Trail Mix contains a highly nourishing mix of nuts and superfoods that will provide you with lots of energy and health benefits. The crunchy nuts are complimented by chewy superfoods and rich raw cacao nibs making Superfood Trail Mix feel like an indulgent snack. Get the recipe here.
If you want even more recipes, Jesse Lane Wellness Cookbook: Healthy Dairy Free Desserts contains recipes that accommodate a wide variety of food allergies, diets, and lifestyle choices.
All of the recipes are dairy free, soy free, & vegetarian
26 of the recipes are gluten free
17 of the recipes are vegan
17 of the recipes are paleo
12 of the recipes are sugar-free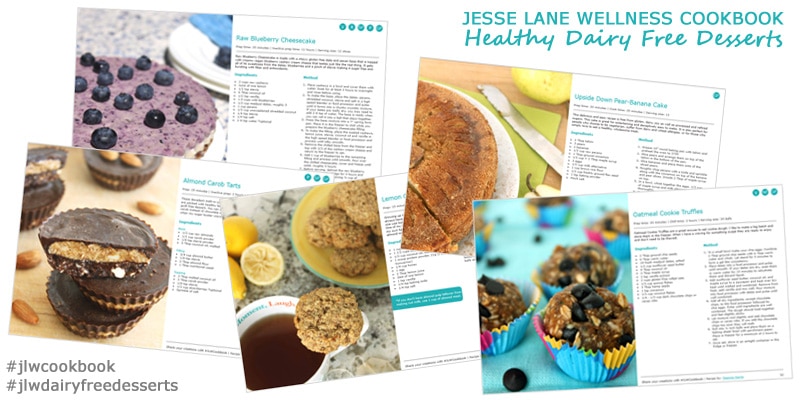 Wishing you and your family a new happy new year and all the best for 2016!