Healthy Easter Recipes on TV
What goes better with Easter than chocolate?
Today I have some fun and healthy Easter recipes that you can make with your kids over the holiday! The best part is that these recipes are naturally sweetened and high in fibre so they won't send your kids soaring on a sugar high followed by a cranky sugar crash.
During my segment on Global TV, I show you how to make my Chocolate Coconut Easter Nests and talk about two other healthy Easter recipes from my cookbook Healthy Dairy Free Desserts. The segment originally aired on April 11, 2017.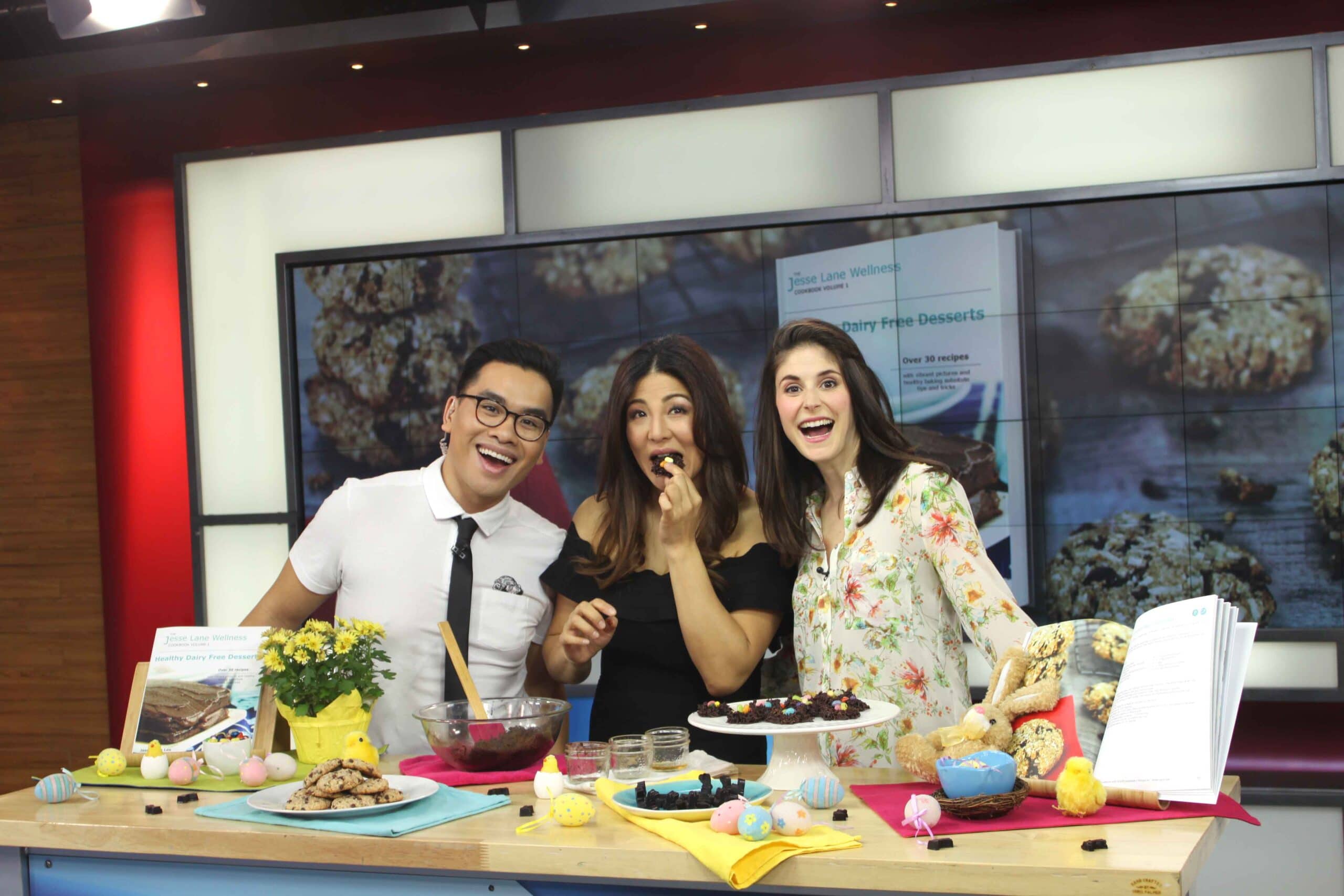 Chocolate Infused Healthy Easter Recipes

Almond Coconut Choco Chip Cookies
These cookies are super easy to make and are a delicious combination of almonds, chocolate, and coconut. They have a fabulous texture and are the perfect amount of sweetness. Bonus: they are gluten-free and dairy-free! When the host Minna tried them she said: "I can't believe this is healthy!".
Get the recipe in my cookbook Healthy Dairy Free Desserts.
Chocolate Coconut Easter Nests
Liem loved these Chocolate Coconut Easter Nests! They are really similar to macaroons and not too sweet which is perfect for keeping blood sugar in check. If you are hosting anyone who is gluten-free or vegan these are the perfect dessert to make.
Homemade Mini Easter Bunnies
Easter bunnies you buy at the store contain emulsifiers, flavouring, GMO soy lecithin, and tons of sugar. When you make Easter bunnies at home you can skip all of that! These Homemade Mini Easter Bunnies are the perfect way to indulge while controlling the amount of sugar in the chocolate.
Get the recipe in my cookbook Healthy Dairy Free Desserts.
Can dessert recipes actually be healthy?
Let's be serious, dessert is still dessert, but this cookbook contains yummy, dairy free dessert recipes that are so healthy you can enjoy them for breakfast!
They are made using whole food ingredients that nourish your body and leave you feeling light and energized.
The dairy free desserts in this cookbook are also high in fiber, an important nutrient that slows down the release of sugar into the bloodstream. This helps avoid a sugar high, which is inevitably followed by a crash. Fiber basically makes sure your energy levels stay balanced.
In this cookbook, I teach you how to satisfy your sweet tooth without the guilt!