Lemon Basil Chicken Strips
Lemon Basil Chicken is one of my favourite weeknight meals because it is delicious, flavourful and super easy to make. I love adding this recipe to my meal plans because my busy clients can make it in less than 15 minutes from start to finish. Lemon Basil Chicken has a yummy tanginess from the lemon juice and saltiness from tamari that is balanced with the spicy black pepper and aromatic basil. It is an excellent protein addition to any dinner and really quick to make with only 6 ingredients. For a complete meal, you can enjoy Lemon Basil Chicken alongside your favourite veggies or on top of a salad.
Health Benefits of Chicken
When shopping for chicken I always recommend buying organic chicken. This reduces the amount of hormones, antibiotics and pesticides and increases the omega-3 content of the chicken. You can take it a step further by purchasing local, small flock and pasture raised chicken. Chicken has a multitude of health benefits.
Chicken is an excellent source of lean protein with 35 grams of protein per 4 oz serving
Chicken contains all of the B vitamins which are important for energy levels
Chicken is especially high in vitamin B3 which helps with the conversion of dietary carbs, proteins and fats into energy
Chicken is also rich in minerals like selenium which provides antioxidant protection and supports normal thyroid function
Lemon Basil Chicken Recipe
(gluten free, dairy free, nut free)
Prep time: 10 minutes | Cook time: 5 minutes | Serving size: 4
Ingredients:
4 organic boneless, skinless chicken breasts
1 Tbsp dried basil
1 tsp pepper
3 Tbsp lemon juice
3 Tbsp Tamari or organic soya sauce
2 Tbsp grapeseed oil
Directions
Pre-heat the oven to broil.
Slice chicken into 2" long strips about ½" wide and sprinkle with basil and pepper.
In bowl combine lemon juice, tamari and oil; add chicken and stir to coat.
Place strips in single layer on baking sheet and let stand 5 minutes.
Broil Lemon Basil Chicken 4" from heat 4 to 5 minutes or until tender and no longer pink.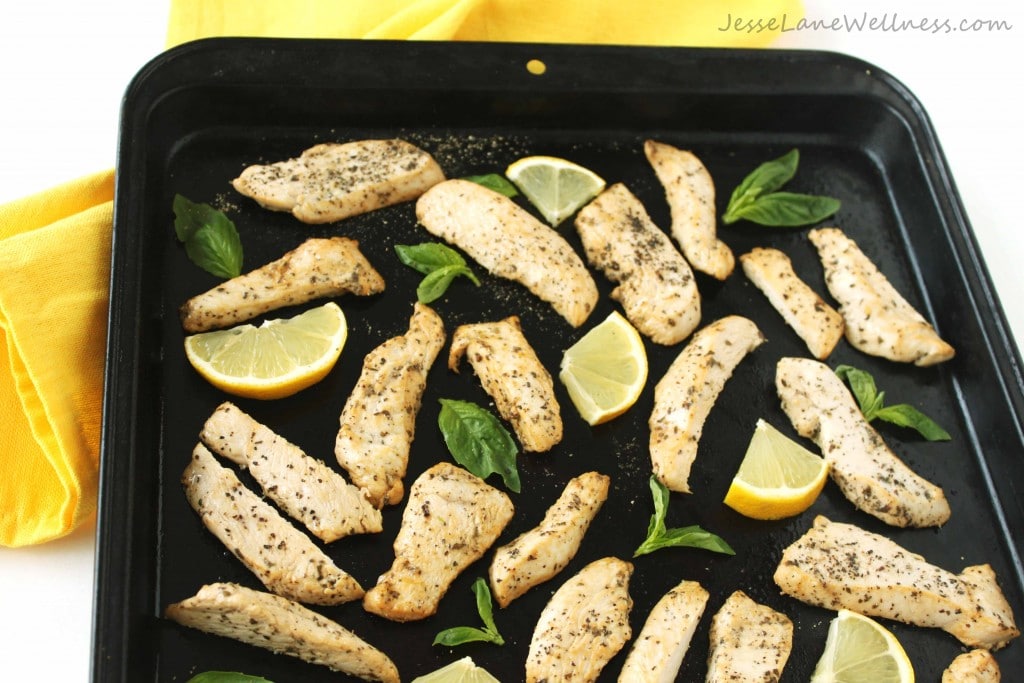 Looking for more ways to boost your energy levels?
In my Eat Clean for Energy course, I will show you how to cook and eat foods to naturally boost your energy and maintain and build on that energy long-term.
In this 7-week course, you'll learn:
How to zero in on what's slumping your energy
Foods that charge…and foods that drain
Recipes and cooking techniques to boost and build energy levels that last
How many carbs, protein and fat you should eat daily for your weight and energy goals
How intermittent fasting can contribute to soaring energy and mental clarity
To snack or not to snack?
How blood sugar and the glycemic index works
Structuring meals that balance blood sugar throughout the day
Incorporating adaptogens to balance adrenal fatigue and thyroid dysfunction
The powerful benefits of medicinal mushrooms
The importance of hydration for energy and ATP production
Understanding healthy vs. unhealthy fats
The power of probiotics, enzymes and fermented foods
Determining food allergies
Principles for building a healthy lifestyle including healthy sleep, stress and exercise
Have you tried my Lemon Basil Chicken recipe? I would love to know what you think in the comment section. If you liked it, share it with your friends!