Creamy Sesame Kale Salad Recipe
Creamy Sesame Kale Salad is quick, easy and oh so delicious. I massage the kale in velvety, creamy tahini dressing and has just a hint of caramel sweetness from dates. This 15-minute salad serves as four sides or one big entree salad if you're looking for something light and healthful to eat! It's chalked full of protein, healthy fats, alkalizing vinegar, and of course – the star of the show – kale!
Remember back in the 2010's when you couldn't look at anything health-related without seeing the glorious green vegetable that is kale? Kale was everywhere, we couldn't get enough of it. TIME Magazine even named it one of the top 10 food trends of 2012. And although the spotlight has shifted to new cruciferous in recent years (we're looking at you cauliflower), kale is still one of the TOP health-promoting foods out there! I'm here to revive your obsession with kale with my Creamy Sesame Kale Salad!
Creamy Sesame Kale Salad Recipe
Gluten-free & vegan
Prep time: 15 minutes | Serves 1 main or 4 sides
Ingredients 
1 bunch of kale 

¼ cup sesame seeds 

5 Medjool date, pit removed, cut into small pieces

1/4 cup oil 

1/3 cup tahini 

2 tbsp apple cider vinegar 

2 tbsp water

1/4 tsp salt 

1/4 tsp pepper
Directions 
Soak one date in boiling water for 15 minutes. 

Place sesame seeds in a dry frying pan and lightly toast until fragrant. 

To make the dressing, place the date, oil, tahini, apple cider vinegar, water, salt and pepper in a blender and blend until smooth. 

Remove the stem from the kale and finely shred the leaves. Pour the dressing over the kale and massage for 1-3 minutes.

Top the creamy sesame kale salad with toasted sesame seeds and remaining dates.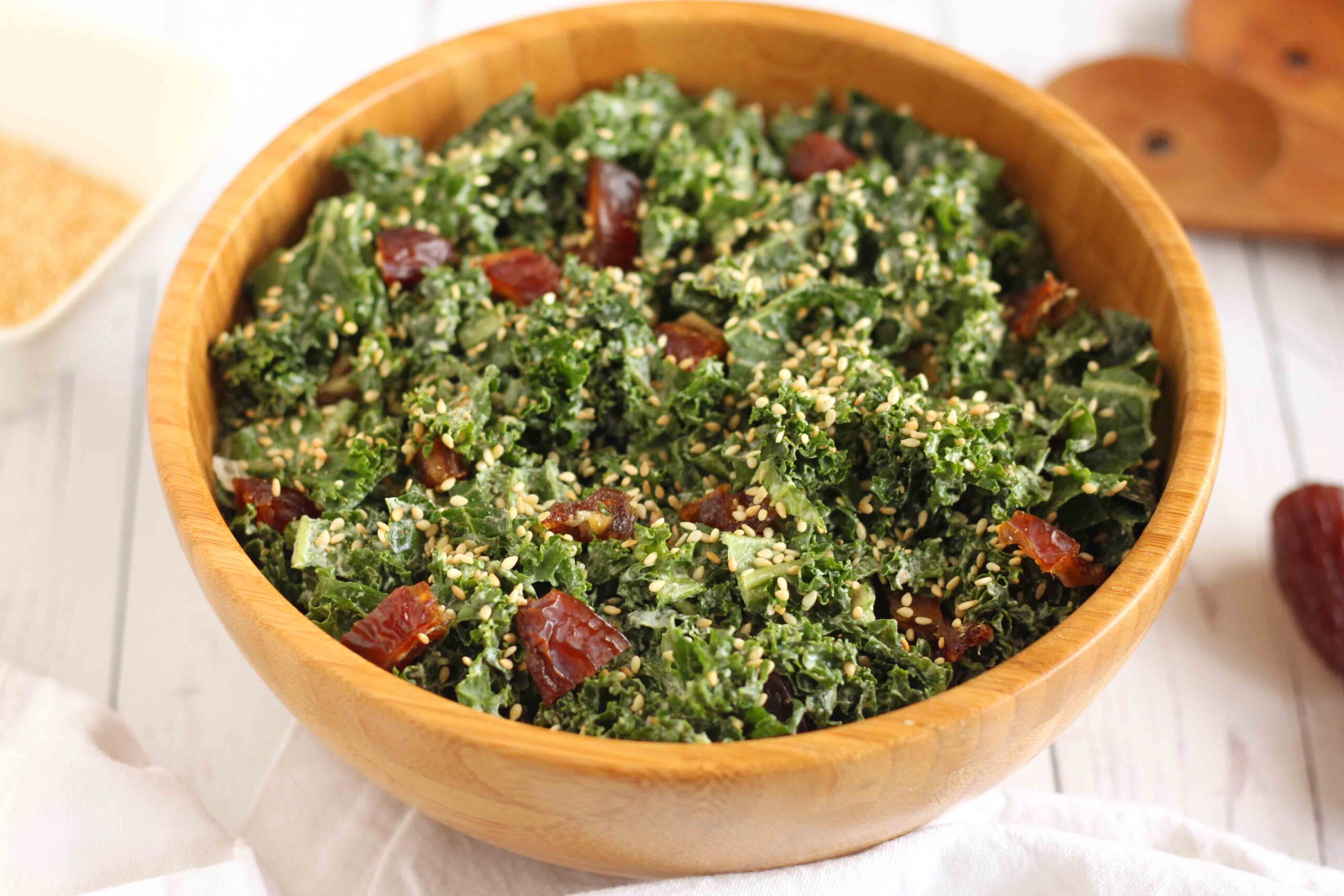 My Eat Seasonally Lunch & Learn
During this summer's Lunch And Learn Session, we'll do a deep dive into the foods of summer and I'll show your team the joy, importance, and fun of eating seasonally. Eating seasonally has tremendous health benefits. During this engaging Lunch and Learn, I will explain the benefits of seasonal eating and teach you how to eat seasonally all year round. I'll show you what is currently in season and share yummy recipes using fresh summer produce!
Some of the benefits of seasonal eating include:
Seasonal foods are often locally sourced and travel a shorter distance to get to you! As a result, they hang on to more of their nutritional value since they are being grown and picked at the right time.

Seasonal foods make for better ingredients because they're jam-packed with flavour. When something is in season, it is allowed to spend more time ripening on the plant and less time travelling to get to you!

It's cheaper! Less transport means fewer costs and fewer spoiled items. Growers have an abundance of produce and a short window to sell it meaning you get a great bang for your buck!

A lower carbon footprint. Seasonal eating is a great trick to reduce yours! Reduced transportation and fewer preserving methods allow your food to get to you with less impact!

Supporting your local community! Buying local and in season means you're supporting individuals and families in your local community!
These are just a few of the amazing benefits of seasonal eating! I can't wait to share more with you and your team in this refreshing Summer Lunch and Learn! Email me at info@jesselanewellness.com for more information. 
Health benefits Kale 
Let's do a deep dive into this leafy green vegetable! It's no secret that kale is healthy and does so much good for your body! But what do we actually know about kale? 
For starters, kale is a low glycemic food meaning, it won't spike your blood sugar.
It's filled with essential vitamins and minerals like:
Vitamin K supports your blood proteins and helps ensure calcium transported by Vitamin D is absorbed by your bones, protecting your arteries from deposits.

Vitamin A which keeps your immune system strong, protects your eyesight, and aids in cell division.

Manganese which helps form bones, cartilage, and hormones.

Vitamin C which is an important antioxidant for your body's immune system and encourages collagen formation.
We all know that kale has high antioxidant content, meaning it helps to protect our immune system and overall health. Because of this, it reduces oxidative stress (the imbalance of free radicals and antioxidants in your body), and has been found to even reduce cancer risk as a result.
It's also highly anti-inflammatory which reduces the burden on your immune system, and can help prevent a multitude of inflammatory conditions like heart disease, type 2 diabetes, arthritis, and more!
More Kale Salad Recipes
Looking to refresh your kale salad recipe repertoire? Try these for a fun and refreshing new take on everyone's favourite green!
Cranberry Apple Kale Slaw
This slaw is a delicious way to use kale! It's excellent in the late summer months when apples are at their peak and you're craving a little fall flavour. Unsweetened cranberries boost the antioxidant content of this 15-minute dish, and the honey dijon dressing adds the perfect creamy kick! Get the recipe here. 
Pear And Pecan Kale Salad
This pear and pecan salad is the perfect entree salad to brighten up any lunch or dinner routine. This is a protein-packed salad with tons of lean chicken, has lots of healthy fats from the pecans, is super creamy from the feta, and is a great digestive thanks to some spicy fresh ginger root! Your tastebuds will be dancing after this one! This gluten-free dish is on the table in 35 minutes and packs beautifully for lunch the next day! Get the recipe here. 
Ginger Kale Beet Salad
Pecans, kale, ginger, and mustard. Can you blame me for making multiple salads with these perfectly complementary ingredients? This 'Ginger Kale Beet Salad' is a heartier salad thanks to yummy sweet beets! If you're looking for a satisfying dish that's vegan and gluten-free, this is for you! You'll have this warming salad made in a cool 20 minutes! Add chicken or fish to make it a meal, or extra pecans for a protein-packed crunch! Get the kale salad recipe here. 
Curry Kale Quinoa Salad
It's sad to say that in this 20-minute recipe, kale takes a back seat because the other ingredients are so flavourful! This salad is a vegetarian's dream, getting its protein from quinoa and its flavour from marinated onions and sundried tomatoes. The dressing features turmeric (a super anti-inflammatory spice), and tahini to give it a rich, nutty flavour. This gluten-free and nut-free salad is a Six Flags rollercoaster for your tastebuds! Get this kale salad recipe here. 

Crispy Chickpea Kale Salad
This 'Crispy Chickpea Kale Salad' is like the healthiest caesar salad knock-off you'll ever eat! I use romaine lettuce instead of kale, crunchy protein-packed roasted chickpeas are the perfect replacement for croutons, and ripe avocado is the creamy texture needed when you just don't want cheese. This is a fibre-rich salad with lots of healthy fats, and tons of yummy spices for a rich flavour. Refresh your salad game with a variety of textures and flavours! Get this classic kale salad recipe here.