Pear and Pecan Kale Salad
Pear and Pecan Kale Salad is simple and delicious at the same time. It has a warming ginger dressing and is topped with protein-packed chicken, tangy feta, and crunchy pecans.
Have you ever found yourself thinking "I need to be more creative with veggies"?
This is a common complaint I hear a lot from my clients and readers.
Everyone knows they need to be eating lots of veggies, but the thought of eating another salad made with lettuce from a bag and store-bought dressing makes everyone want to yawn with boredom.
That is why I created Healthy Fresh Salads. It contains over 30 exciting and fresh gluten-free salad recipes. The recipes are all "fresh", not only are they created using fresh veggies, but they are also inspired, creative and anything but boring.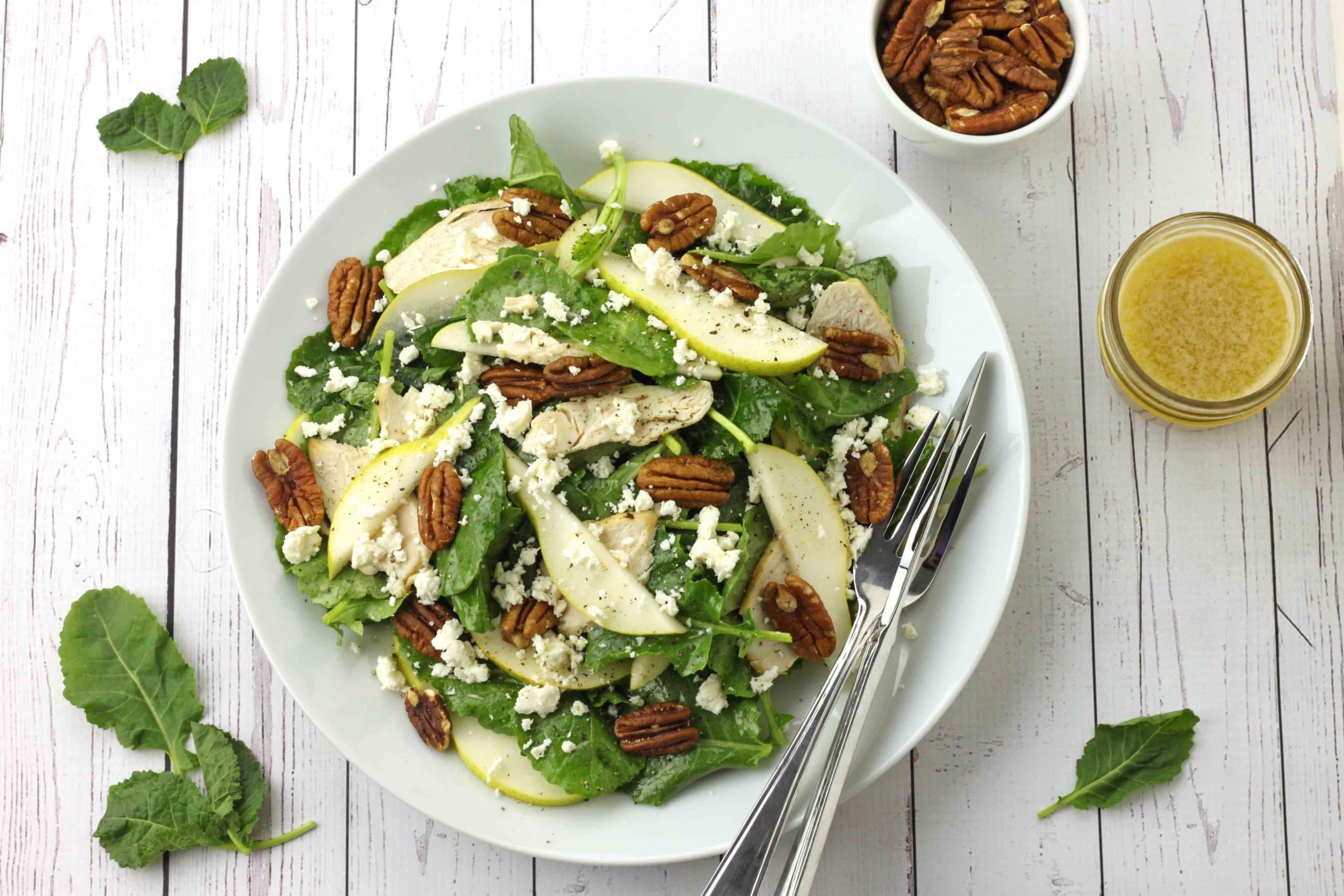 Pear and Pecan Kale Salad Recipe
gluten-free
Prep time: 10 minutes | Cook time: 25 minutes | Serves 4
Ingredients
4 small chicken boneless skinless breasts
¼ tsp salt
½ tsp pepper
1/3 cup apple cider vinegar
1/3 cup extra virgin olive oil
1 Tbsp grated fresh ginger
2 tsp maple syrup
12 cups baby kale
4 pears, diced
½ cup feta cheese
1 cup pecan halves
Directions
Preheat oven to 450F and line a baking sheet with parchment paper. Place chicken on the baking sheet and sprinkle with 1/8 tsp salt and ¼ pepper. Bake for 25 minutes until cooked through.
To make the dressing, shake together apple cider vinegar, olive oil, ginger, maple syrup and 1/8 tsp salt and ¼ tsp pepper in a mason jar.
To make one Pear and Pecan Kale Salad serving, toss 3 cups of baby kale with 3 Tbsp dressing and top with chicken, 1 diced pear, 2 tbsp feta cheese and ¼ cup pecans.
PER SERVING: CALORIES: 631, FAT: 30 g, SAT. FAT: 5 g, CARBS: 64 g, FIBER: 14 g, SUGARS:  23 g, PROTEIN: 35 g, SODIUM: 513 mg, CHOLESTEROL: 97 mg