Super Simple Paleo Tuna Salad
If you are looking for a yummy and nutritious salad that you can make in 15 minutes, then my Super Simple Paleo Tuna Salad is for you! It is high in healthy fats and protein to keep you feeling satisfied from lunch until dinner. It is great for picnics and travels well if you store the salads dressing separately and add it right before you start eating.
Get more salad recipe in my cookbook!
Everyone knows they need to be eating lots of veggies, but the thought of eating another salad made with lettuce from a bag and store-bought dressing makes everyone want to yawn with boredom.
Healthy Fresh Salads over 30 gluten-free, unique, and fresh salad recipes created by Holistic Nutritionists. I also added information on why it is important to eat the rainbow, nope not Skittles, but a variety of colourful vegetables. My book explains how to properly clean your veggies and talks about Genetically Modified Organisms and why we should avoid them. I also wrote a chapter with tips and tricks on how to buy fresh produce without spending tonnes of money.
Buy my cookbook today for only $8.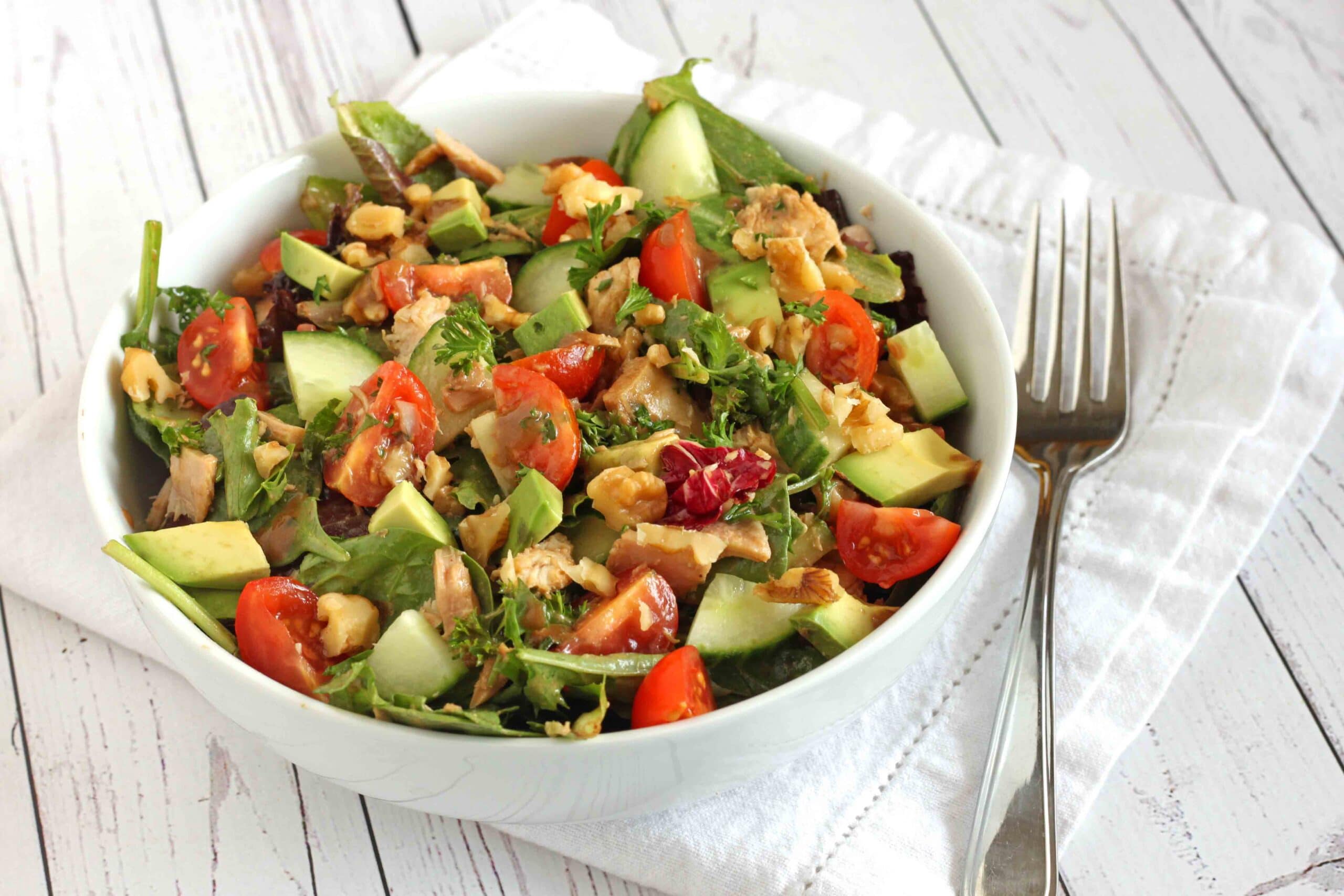 Super Simple Paleo Tuna Salad
gluten-free, dairy-free & paleo
Prep time: 15 minutes | Serves 1
Ingredients
3 cups mixed greens
1 can tuna, drained and flaked
½ cup cherry tomatoes, cut in half
½ cup cucumber, diced
¼ cup walnut pieces
½ avocado, diced
2 tbsp fresh parsley, minced
2 tbsp olive oil
1 tbsp balsamic vinegar
1 tsp Dijon mustard
Pinch salt
Pinch pepper
Directions
Place the mixed greens, tuna, cherry tomatoes, cucumber, avocado, walnuts and parsley in a large bowl.
Place olive oil, balsamic vinegar, Dijon mustard, salt and pepper in a mason jar and shake until mixed.
Top the super simple paleo tuna salad with the dressing and toss to mix.
PER SERVING: CALORIES: 532, FAT: 47 g, SAT. FAT: 7 g, CARBS: 17 g, FIBER: 8 g, SUGARS:  5 g, PROTEIN: 17 g, SODIUM: 432 mg, CHOLESTEROL: 25 mg