Healthy Halloween Snacks Roundup
I am so excited to share these fun healthy Halloween snacks with you.
Halloween was actually my favourite holiday as a kid because it was all about the candy! As much as we love candy, it is super high in sugar which makes kids (and adults) bounce off the walls on a sugar high followed by a cranky sugar crash.
As a holistic nutritionist, I'm all about showing you that healthy eating can be fun, easy, and most of all delicious. Today I'm going to show you some fun and festive healthy Halloween snacks that you can serve at your Halloween party.
I'm actually really excited that I got to share all of these healthy Halloween snacks on Breakfast Television Friday, October 28th at 8:20am. Watch the segment here.
Healthy Halloween Snacks
Jack-o-Lantern Stuffed Peppers
Eating a good meal before going out trick-or-treating is a great way to fuel all of that walking. Peppers are a great source of beta-carotene which converts to vitamin A and helps trick-or-treaters see in the dark.
Find this recipe on my website here.
Spider Deviled Eggs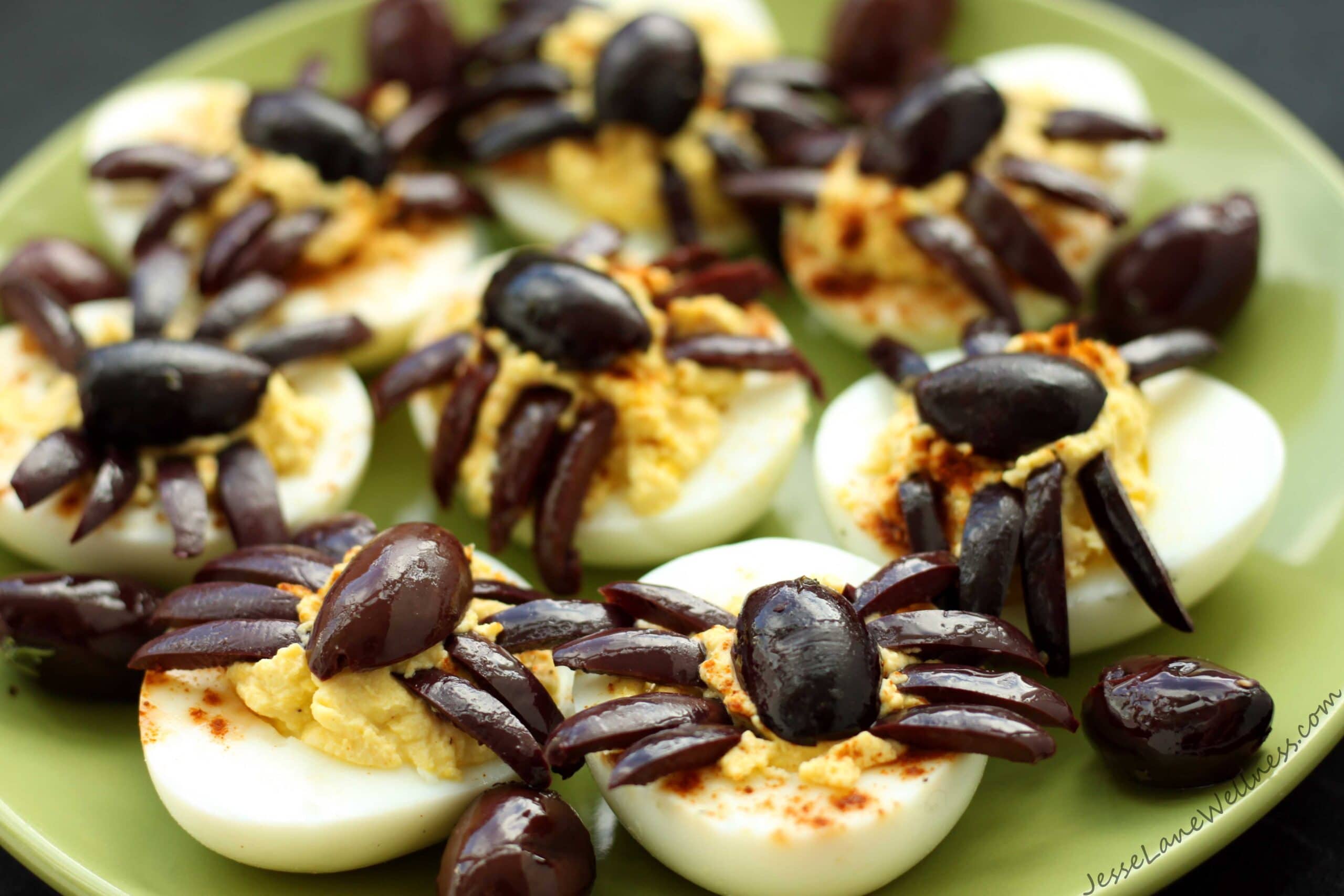 These deviled eggs are really easy and fun to make. They are the perfect healthy Halloween snack or party appetiser. Eggs have lots of health benefits like being high in B-vitamins which will give trick-or-treaters lots of energy.
Ingredients
6 large eggs
¼ cup plain organic Greek yogurt
1 tsp Dijon mustard
Salt and pepper
Paprika, for garnishing
18 black olives, pits removed
Directions
Place eggs in a pot, add enough water to cover the eggs, and cover with a lid. Bring water to a boil over high heat, turn off the heat, and let sit for 10 minutes. Place eggs in a bowl with cold water to cool them down and to stop the cooking.
When the eggs are cool, remove shell, and slice in half lengthwise. Remove the yolks and put them in a bowl and arrange the whites on a plate cut side up.
Mix together the yolks, yogurt, mustard, salt and pepper until creamy and smooth. Spoon or pipe yolk mixture into egg whites and top with a sprinkle of paprika.
Cut the olives in half. Place 1 olive half cut side down in the center of each deviled egg to make the spider's body. Cut the remaining olives halves into 4 pieces lengthwise and place 4 pieces on each side of the olive half to create spider legs.
Clementine Pumpkins
This healthy Halloween snack is just too cute!
Ingredients
12 clementines, tangerines, or mandarin oranges
1 celery stock
Directions
Peel the clementines and scrape off as much of the white membrane as possible.
Cut the celery stock in half and into 1-inch pieces.
Insert into the celery stocks into the peeled tangerines to form the pumpkin stem.
Ghost Bananas
Ingredients
4 bananas, peeled
2 Tbsp lemon juice, ½ a lemon
16 mini chocolate chips
8 regular size chocolate chips
Directions
Cut bananas in half and brush with lemon juice to prevent browning.
Place cut side down on a try and stick 2 mini chocolate chips near the tip of the banana to make eyes and one in the center to make a mouth.
Healthy Pea(not) Butter Cups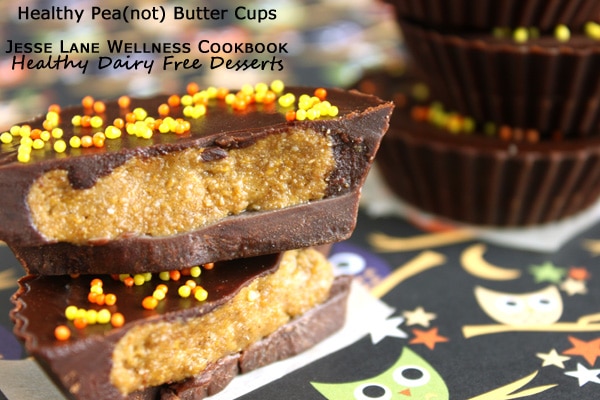 Healthy Pea(not) Butter Cups melt in your mouth and are a million times better than the processed sugar-laden version. They have a creamy sunflower seed butter center that is nestled in a stevia sweetened carob shell. The sunflower seed butter center is slightly sweetened with a little bit of salt and the carob coating is sweet and delicious with caramel undertones. If you have never tried sunflower butter or carob you will find that they are a match made in heaven.
Get the recipe in my cookbook Healthy Dairy Free Desserts.
Spooky Meringue Ghosts
Spooky Meringue Ghosts are perfect for Halloween! They are light and crispy little treats that melt in your mouth. Spooky Meringue Ghosts only have 5 ingredients and they are gluten free, nut free and dairy free. You can still enjoy them even if it is not Halloween, just fold the raw cacao nibs into the meringue mixture instead of using them as eyes. PS keep watching to the end to hear my lovely singing voice… in French!
Halloween Carrot Fingers
Ingredients
10 carrots, peeled
1 cup hummus
5 almond slices
Directions
Cut 5 carrot tips to finger length. Cut the remaining carrots into sticks.
Cut a flat and shallow notch at the top of each carrot finger. Fill the notch with a tiny bit of hummus to hold an almond slice fingernail.
Place the hummus in a serving bowl and stick the carrot fingers into the hummus so it looks like a hand coming out of the bowl. Surround with carrot sticks and serve.
Roasted Pumpkin Seeds
Ingredients
1 pumpkin
1 ½ tsp salt
1 Tbsp grapeseed oil
Directions
Scrape the seeds out of a pumpkin and clean them well so there are no leftover pumpkin guts. A great way to do this is in a big bowl of water because the seeds will float to the top.
Preheat oven to 325F.
Place the seeds in a pot, cover with water, and add 1 tsp salt. Bring to a boil, lower the heat and simmer for 10 minutes uncovered. This helps with the digestion of the seeds.
Drain the seeds and pat dry with a towel.
Toss with grapeseed oil, and ½ tsp salt.
Place on a baking sheet and roast for 20 minutes, stirring half way through. They are ready when they are golden brown and crispy. Add more salt as desired.