Pinterest Worthy Holiday Eats
We all love to get festive around this time of year but I like to do it with a healthy twist! I shared Pinterest Worthy Holiday Eats on Breakfast Television on December 3 at 7:40 am.
Watch the segment here or watch a teaser on my Instagram Stories in the media highlight.

Pinterest Worthy Holiday Eats
Holiday Chocolate Bark
It is super quick and easy to make your own bark. You can play around with the toppings – I like to add orange zest, pistachios, and cranberries. Holiday bark is also a great source of energy-boosting healthy fats.
Strawberry Santas
A sweet treat that is healthy and cute at the same time. Strawberries are a good source of vitamin C, which keeps your immune system strong. No one wants to be sick over the holidays. Bananas are an excellent source of potassium which helps maintain healthy blood pressure, which we all know can rise around the holidays.
Real Food Gingerbread Men
Real Food Gingerbread Men are sweetened with dates and blackstrap molasses so they won't spike your blood sugar. sugar. Your kids won't think of them as a healthy alternative, as they still look like a "treat" and a respectable Gingerbread Man.
Get the recipe in my cookbook Healthy Dairy Free Desserts.
Egg Snow Men
These little guys are almost too cute to eat. They are filled with energy-boosting protein and B vitamins to fuel your holiday shopping.
Egg Snow Men are really easy to make. Start by hard boiling small and extra large eggs. Cut the ends off the extra large eggs and cut the pointy ends off the small eggs. Stack the small egg on top of the extra large egg and secure with a wood skewer. Use peppercorns to make buttons, eyes and a smile. Use a small sliver of carrot to make the nose and pretzels for the arms.
Cucumber Christmas Trees
Cucumber Christmas Trees are a little more work to assemble but the final result is well worth the effort. Cucumbers are super hydrating which helps during the holidays when we often forget to drink water and enjoy dehydrating cocktails.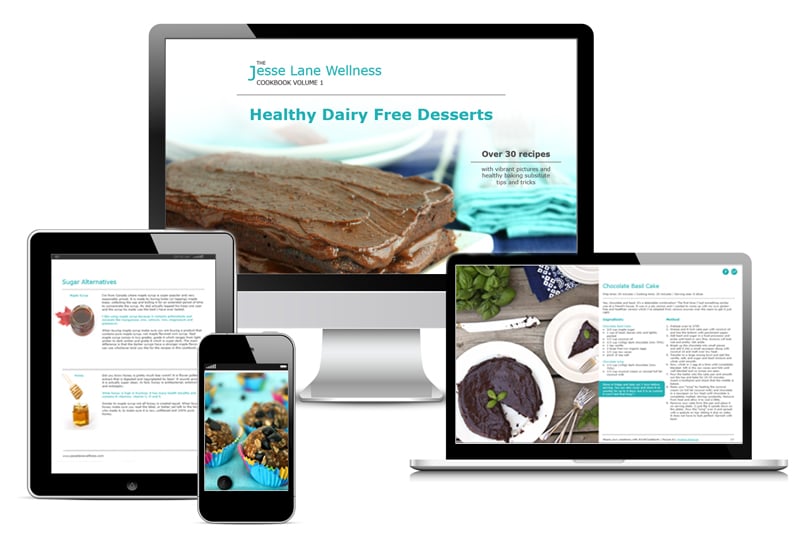 Do you want to have your cake and eat it too? Now you can!
Healthy Dairy Free Desserts contains over 30 holistically delicious dessert recipes (with stunning images) that you can enjoy guilt-free!
All of the unique recipes are nutritionist approved, made with whole food ingredients and do not contain any soy, dairy, white flour or processed sugar.
Healthy Dairy Free Desserts also contains a guide to healthy baking substitutes and alternative sugars, so you can learn how to turn your family favourites into healthy desserts.