All you need to know about medicinal mushrooms on The Morning Show
Medicinal mushrooms like chaga, reishi and cordyceps are popping up all over the place. During my "All you need to know about medicinal mushrooms" segment on The Morning Show, I'll explain the unique benefits of medicinal mushrooms, how they boost energy levels, and how you can easily incorporate them into your diet.
The segment was live on June 28th. Watch the replay here and get a behind the scenes view in my Instagram Stories.
Medicinal mushrooms are adaptogens which mean they help our bodies where help is needed. They help balance stress hormones which can cause you to feel sluggish in the morning.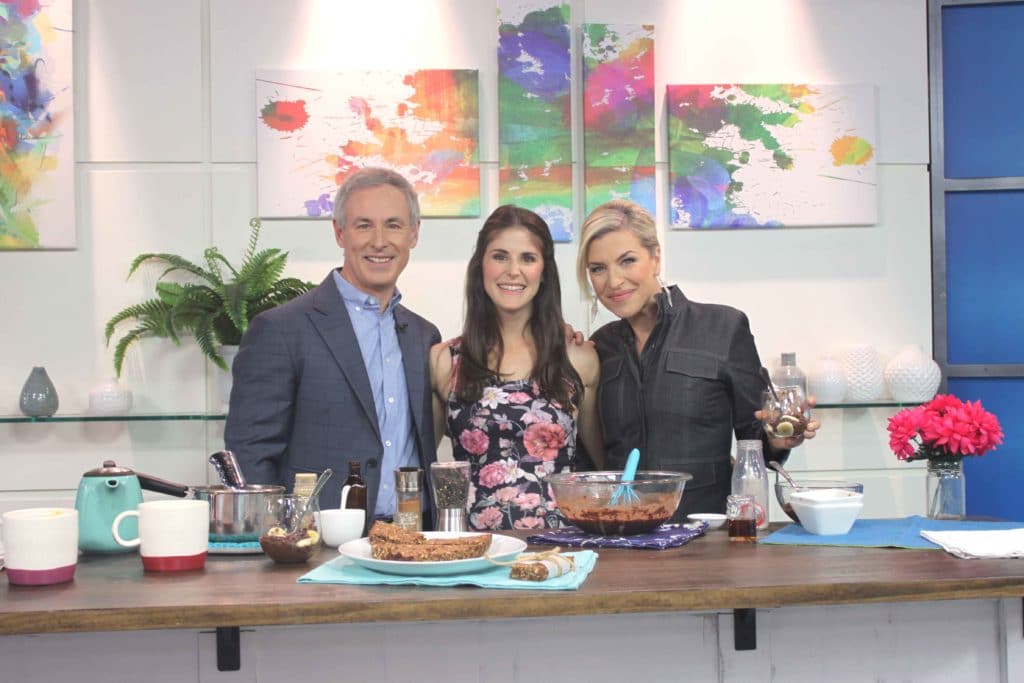 Chaga
Chaga is a mushroom that grows on birch trees; it actually looks like a big tumour on the side of the tree. It is known for its cancer fighting and prevention properties as well as detox properties. When the body is laden with toxins, it works really hard to detoxify which can leave you feeling tired.
Health benefits of chaga include:
Adaptogenic properties to support the endocrine system and boost energy levels
Antifungal so it works as immune system modulators and fights candida
Packed with antioxidants, so much so that chaga has one of the highest ORAC values of foods ever found on earth
Repairs DNA and protect the body against tumour growth
Detoxifying
Chaga is excellent for boosting the immune system due to high levels of Beta-D-Glucans
Helps reduce bad bacteria in the gut
The acids found in chaga can break down bad cholesterol in the body which reduces the risk of high blood pressure and other symptoms of high cholesterol
If you love a hot drink in the morning, even in the summer, then chaga golden lattes are a great solution. Get the recipe here.
Reishi
Reishi is the oldest known mushrooms to be used as medicinal mushrooms. Reishi mushrooms are a spiritual mushroom that helps promote peace of mind by helping the body get rid of negative energy.
Health benefits of reishi include:
Improves sleep and reduce fatigue
Helps with digestion and bowel regularity
Acts as an adaptogen that improves the function of the whole body with an emphasis on the immune system and the liver
Reduces depression and anxiety
Aides in the treatment of arthritis due to its anti-inflammatory properties
Lowers blood sugar by down-regulating the enzyme responsible for breaking down starch into sugar
Contains antioxidants which protect cells from oxidative damage
Has detoxification properties
Reishi Chocolate Chia Pudding
Ingredients
2 cups almond milk
1/2 cup chia seeds
1/3 cup raw cacao powder
1/4 cup maple syrup
1 tsp vanilla extract
4 tsp reishi powder
Directions
Place all ingredients in a sealable container and mix. Place in the fridge to gel for at least 2 hours to overnight.
Enjoy as is or top with a sliced banana and raw cacao nibs. Serves 4.
Cordyceps
Cordyceps are a different type of fungus because they are usually found growing on the surface of high-altitude caterpillars. I'm not going to lie, when I was doing my research this totally grossed me out! After a bit more digging I found that most cordyceps we see in stores are organically grown from an organic brown rice substrate.
Health benefits of cordyceps include:
Increases energy levels
Adaptogenic effects balance your hormones
Reduces memory loss and improves memory by supporting the nerve growth
Anti-inflammatory and able to enhance athletic performance and endurance
Makes oxygen utilization more efficient which means higher energy levels
Immune boosting
Improves liver and kidney protection
Eat your way to high energy levels
In my course Eat Clean for Energy, I explain how the macro and micronutrients in the food you eat directly correlate to the amount of energy that's available to you. From healthy fats to adaptogens, essential vitamins and balancing blood sugar levels, I break it down and shows which foods zap energy and which foods make it soar.
Register for my online course here.