Healthy Eating on a Budget eBook
"Healthy eating on a budget is something I really struggle with."
"My biggest barrier to cooking healthy meals is cost. Fresh produce and natural foods are so expensive!"
"Sometimes eating healthy and making healthy meals costs a lot of money."
"Healthy food is more expensive and sometimes I cannot afford to buy it."
Does any of this sound familiar?
I used to think and say the same things before I started exploring creative ways to eat healthy food on a budget. I'm excited to share my top 4 tips for healthy eating on a budget with you.
Download my Healthy Eating on a Budget eBook here. 
If you like this video, please give it a thumbs up and share it with someone you know what wants to eat healthier but is strapped for cash.
Healthy Eating on a Budget Tip 1: Switch coffee for green tea at your desk
Your daily coffee can cost you about $800 a year, and that is just for a regular coffee, not a fancy latte that costs double that amount. If you swap out your coffee for green tea which you can make at your desk, you can save a ton of money.
So much you could finally buy that Vitamix you have been dreaming about!
You will also experience the health benefits you get from drinking green tea instead of coffee, but that is another topic altogether.
Healthy Eating on a Budget Tip 2: Make one meatless meal per week
Organic meat is expensive, there is really no way around it.
Trying to have one or more meatless meal every week will save you a lot of money and it will encourage you to get creative in the kitchen!
Have fun exploring vegetarian sources of protein like eggs, beans, grains, nuts, and seeds.
Healthy Eating on a Budget Tip 3: Pack your Lunch
I was always one to make my own lunch. As a high school student, I would make sandwiches and stealthily eat them in the fast food restaurant while my friends ate burgers and fries. This way I could still socialize over my lunch, but I didn't end up spending tons of money and I got to eat something relatively healthy.
We all know that packing your lunch can be healthier but did you ever think about how much money you can save if you brown bag it? Buying lunch every day can cost you around $2600 a year!!!
With all of that money you could get organic produce delivered to your door weekly for a full year, that is a lot of fresh fruits and veggies.
Healthy Eating on a Budget Tip 4: Eat more fruits and veggies
My last tip is to eat more fruits and vegetables. I have always been a veggie lover and always ate my trees (aka broccoli) when I was younger, unlike my sisters who hid them in napkins or threw them into the back yard when they thought my mom wasn't looking!
I know there is a misconception that fresh produce is expensive, so I spent a lot of time exploring creative ways to purchase fresh produce on a budget. There was so much information to share that it didn't fit in this blog post, so I created an eBook (which I'm giving to you for free) called Healthy Eating on a Budget instead.
Healthy Eating on a Budget teaches you how to buy fresh fruits and veggies without breaking the bank!
Download my Healthy Eating on a Budget eBook here. 
Hi, I'm Jesse Lane Lee, I'm a cheerful holistic nutritionist, cookbook author, and salad lover! Before becoming a nutritionist I worked as an engineer and made a salad for lunch every day.
I literally ate a salad every day for the 7 years I worked as an engineering which works out to roughly 1,700 salads!!!
I quickly had to get creative with the salads I was making because I could not eat the same salad every day for 1,700 days. I started playing with what I was putting in my salads and the types of dressing I was using. I changed up the greens, varied the veggies, and experimented with protein like beans and quinoa. I created thin oil based dressings and thick and creamy dressings (which are my personal favourite). Not every salad was a winner, but after 7 years of salad making, I got pretty good at creating delicious and filling combinations.
Don't worry, I wrote all of the yummy salad recipes down so I could share them with you in my cookbook Healthy Fresh Salads!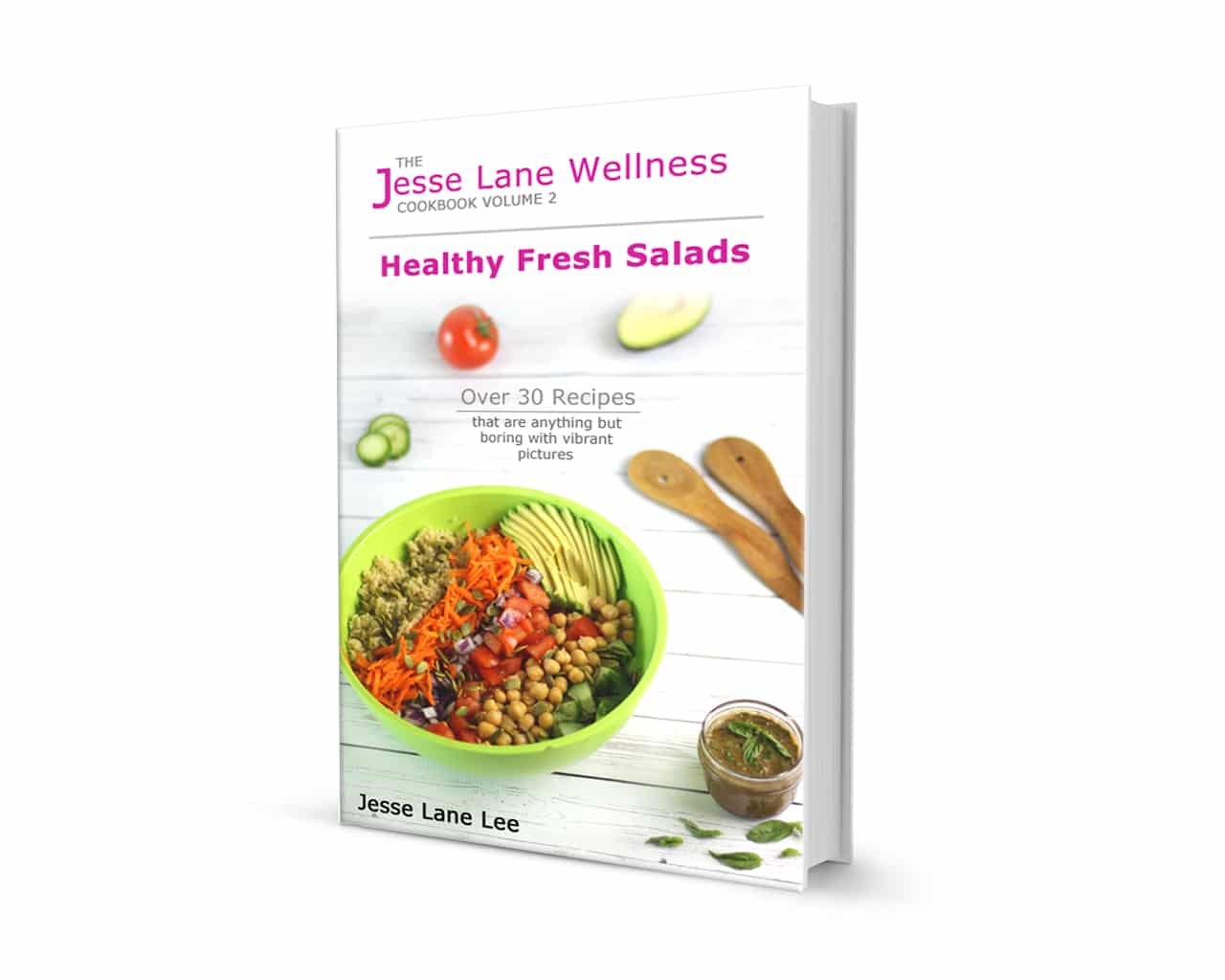 Healthy Eating on a Budget Bonus Recipes
I added 4 bonus recipes from the cookbook to Healthy Fresh Salads to give you a sneak peek at what I have in store for you! Bonus recipe include:
Creamy Broccoli Salad – A mayo-free healthy version of traditional broccoli salad with super antioxidant goji berries and pumpkin seeds.
Dairy Free Chicken Caesar Salad – Topped with crunchy chickpea croutons which are a protein packed gluten-free substitute for bread croutons.
Dairy Free Caesar Dressing – Creamy, vegan, oil-free, and has a secret ingredient that makes it taste just like the real thing. It is so much better than the bottled version!
Market Salad with Creamy Ranch Dressing – A delicious mix of seasonal veggies topped with a creamy ranch dressing that can also be used as a veggie dip.
Get these recipes today!
Download my Healthy Eating on a Budget eBook here.