I'm excited to share 8 fresh salad recipes that are perfect for the summer!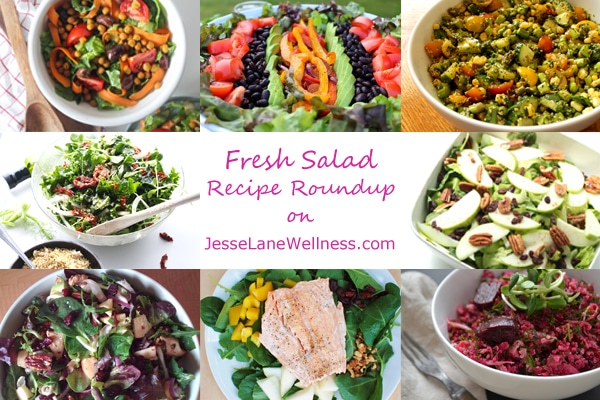 I know there is a misconception that fresh produce is expensive, so I spent a lot of time exploring creative ways to purchase fresh produce on a budget. There was so much information to share that I created an eBook (which I'm giving to you for free) called Healthy Eating on a Budget instead. Healthy Eating on a Budget teaches you how to buy fresh fruits and veggies without breaking the bank!
8 Fresh Salad Recipes
While you wait for my new cookbook Healthy Fresh Salads to come out on July 4, 2016, I thought I would search for some fresh salad recipes to tide you over. These yummy recipes are all gluten-free, no soy, and dairy-free. Many of them are also sugar-free, vegetarian, vegan, and paleo.
Italian Kale Salad with Brazil Nut Parmesan
This creative fresh salad recipe was created by pür body nutrition. It brings the pizza and the pasta we can't get enough of into the humble realm of the kale salad. There's salty sun-dried tomatoes, an addictive garlicky dressing, and a cheesy sprinkle of vegan parmesan made with brazil nuts and spices. Get the recipe.
Sweet and Sassy Salad
How do you feel when you think of a salad? Crunchy? Yummy? Colorful? Vibrant? Or cold? Boring? Bland? Diet food? Try this sassy salad by Balanced Healthy Living and you'll never call a salad boring diet food again! Get the recipe.
Salmon Salad with Pears and Walnuts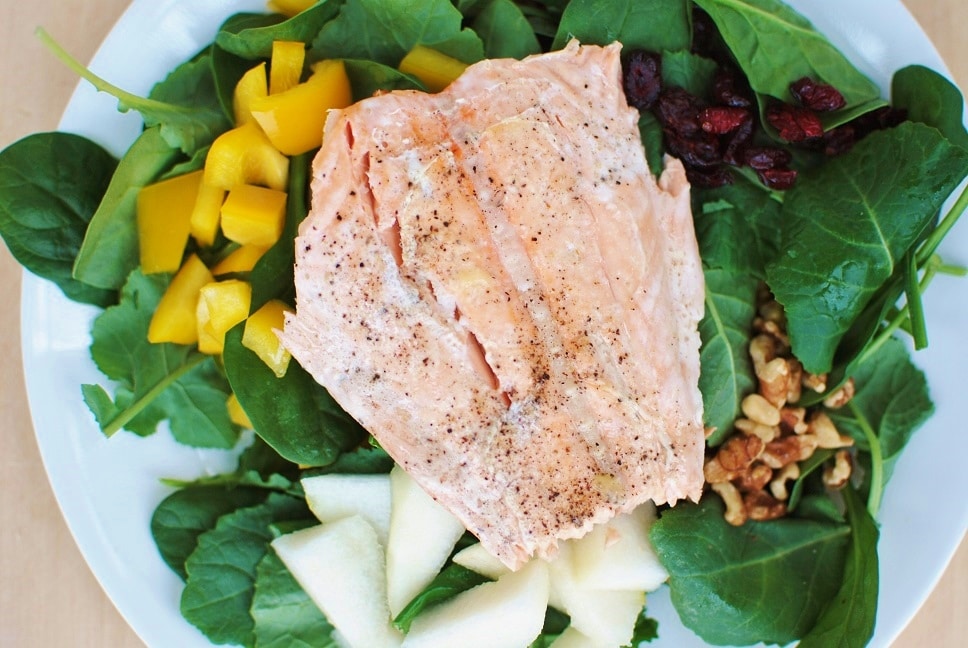 This fresh salad by Snacking in Sneakers is easy to throw together and packed with nutrients. Think omega-3s in the fish and walnuts, Vitamin C in the bell pepper, fibre in the pear, and Vitamin A in that baby spinach.  It's a delish, well-rounded meal. Get the recipe.
Spring Hemp Seed & Asparagus Salad
Loaded with nutrients that are especially supportive of the body's elimination channels, this fresh salad recipe by Tipping Point Nutrition is definitely a go-to. It is super quick and easy to make and is loaded with beneficial foods like asparagus, cilantro, and turmeric. Get the recipe.
Clean out the Fridge Salad
This is the type of meal that you can throw together based on what you have in your kitchen and if you don't have one or two ingredients, use what you do have and make it your own. This yummy and easy vegan romaine salad recipe by Holistic Foodie is satisfying and seriously healthy! Get the recipe.
Black Bean Fajita Salad with Cilantro Lime Dressing
This Southwestern style salad by Caterina Camilleri is so simple and easy to make.  It's rich and creamy without the dairy!  It is refreshing, bursting with flavour, and loaded with super foods that are detoxifying. Get the recipe.
Apple Cinnamon Garden Salad
Who doesn't love the combination of apples and cinnamon!?! This fresh salad recipe by FitTritious is sweet, tart and tangy. It is also really quick to make with ingredients you probably already have in your fridge. Get the recipe.
Roasted Beet & Quinoa Salad
This fresh salad by Heather Allen is great for potlucks, picnics and backyard BBQs. Serve as a side dish or as the star of the main event. This salad can be topped with your favourite toppings like sprouts, chickpeas, or walnuts. Get the recipe.
Healthy Eating on a Budget
I'm so excited to share my new FREE eBook Healthy Eating on a Budget. I added 4 bonus fresh salad recipes from my cookbook to give you a sneak peek at what I have in store for you!
Bonus recipes include:
Creamy Broccoli Salad – A mayo-free healthy version of traditional broccoli salad with super antioxidant goji berries and pumpkin seeds.
Dairy Free Chicken Caesar Salad – Topped with crunchy chickpea croutons which are a protein-packed gluten-free substitute for bread croutons.
Dairy Free Caesar Dressing – Creamy, vegan, oil-free, and has a secret ingredient that makes it taste just like the real thing. It is so much better than the bottled version!
Market Salad with Creamy Ranch Dressing – A delicious mix of seasonal veggies topped with a creamy ranch dressing that can also be used as a veggie dip.
Download my Healthy Eating on a Budget eBook here.