Stevia is a super sweet zero calorie herb that does not affect your blood sugar or insulin secretions.
In fact, studies have shown that stevia actually improves cellular insulin sensitivity which lowers the risk of diabetes and high blood pressure.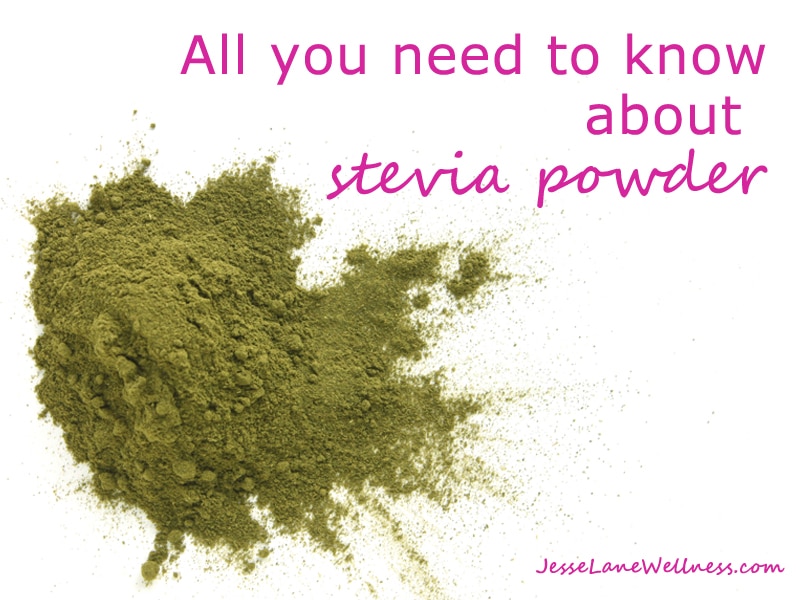 I love using stevia powder as a sweetener in my desserts.
Taste wise stevia powder is super sweet with a bitter undertone; 1 tsp of stevia powder is equivalent to 1 cup of sugar in sweetness.
When you are buying stevia it is really important to look for a green stevia powder which has been made by simply dehydrating stevia leaves.
Stevia gets a bad rap because there are tons of brands that contain fillers so it can be substituted one for one with sugar.
Jesse Lane Wellness Cookbook: Healthy Dairy Free Desserts
I use stevia powder in some of the desserts in my new cookbook Jesse Lane Wellness Cookbook: Healthy Dairy Free Desserts!
My new cookbook contains over 30 healthy dessert recipes that are free from processed sugar.
Some of the other recipes use sweeteners like maple syrup, coconut sugar, honey and many more alternative sweeteners.
I actually have a whole chapter dedicated to alternative sweeteners and how to use them in your baking.
Jesse Lane Wellness Cookbook: Healthy Dairy Free Desserts is now on sale!
You can also check out these recipes that use stevia powder.
Vanilla Almond Protein Truffles
If you are looking for a decadent protein-packed treat these Vanilla Almond Protein Truffles are for you. They are delicious in a coat your mouth with rich chocolate almond buttery goodness kind of way. Vanilla Almond Protein Truffles make a delicious post-workout snack because they are high in protein and ingredients that will facilitate tissue repair. Get the recipe!
Almond Carob Tarts
These decadent melt-in-your-mouth tarts are the perfect way to satisfy your sweet tooth. They are packed with healthy fats, lots of protein and sweetened with stevia making them a delicious guilt-free dessert. You can enjoy these as a yummy evening treat because they are made with carob instead of chocolate so they don't contain caffeine.
No link for this recipe, it is exclusive to Jesse Lane Wellness Cookbook: Healthy Dairy Free Desserts.
Raw Mojito Squares
Raw Mojito Squares are the perfect summer dessert because they don't require cooking and they are cool and refreshing. I love them because they are sugar-free getting all of their sweetness from stevia, so they are perfect for people on the candida diet. Raw Mojito Squares are also vegan, gluten-free, paleo, rich and delicious. Get the recipe and watch the video!
Get more recipes using stevia powder here.
Having trouble finding organic green stevia powder? You can buy it here on Amazon.com or on Amazon.ca.
Want a sneak peek at Healthy Dairy Free Desserts?
You can also scroll down to the comments section and share your favourite stevia powder recipe.
If you liked this post please share it with your friends and family!