Chocolate Zucchini Muffins
Who doesn't want to start the day with chocolate zucchini muffins! Chocolate can actually be healthy if you are eating it the right way (without tons of sugar). It contains Phenylethylamine (PEA), which is the chemical known to inspire happiness, clear-mindedness, focus, and wakefulness. Zucchini is high in mood-boosting folate, fibre, vitamin B6, and vitamin C. These muffins are sweetened with honey and packed with healthy fat from coconut oil and walnuts. Chocolate zucchini muffins are sure to boost your mood, especially when paired with a cup of tea!
Get More Healthy Chocolate Recipes in my cookbook!
My cookbook Healthy Dairy Free Desserts is for you if:
You want to start making healthier choices for yourself and your family but don't want to give up desserts and sweets
Dairy makes you bloated and gassy or causes skin issues like acne or eczema
You are sensitive or allergic to dairy and have really been struggling to cut it out of your diet
You seriously miss desserts and can't buy store-bought desserts because of food allergies
Someone you know is lactose intolerant and you want to be able to bake dairy free desserts for them
You want to learn more about baking with alternative healthy ingredients
Looking for simple recipes that can be quickly whipped up to combat sugar cravings is something you are always doing
You find it disappointing to be at family gatherings and parties with friends and not enjoy the same treats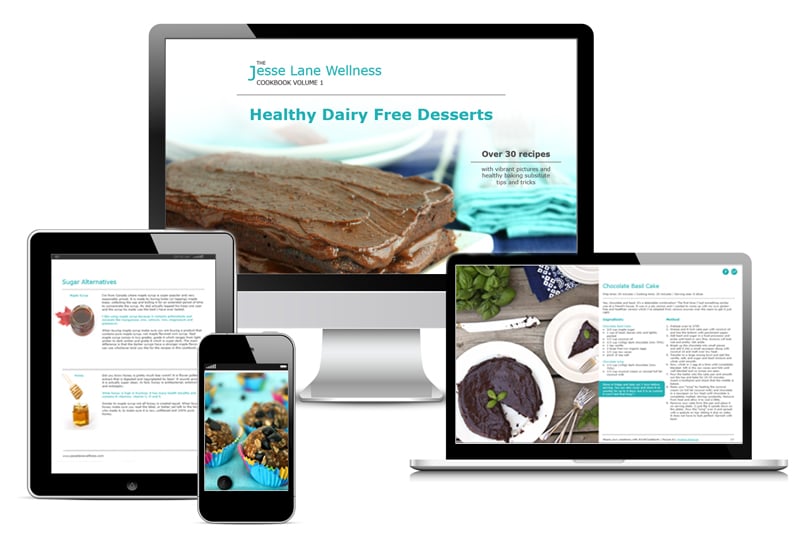 Chocolate Zucchini Muffins Recipe
dairy-free
Prep time: 15 minutes | Cooking time: 30 minutes | Serving size: 12
Ingredients
2 egg
2/3 cup honey
2/3 cup coconut oil, melted but not hot
1 cup almond milk, or milk of choice
4 tsp vanilla
2 zucchini, roughly 2 cups grated
2 cup spelt flour
1.5 cups cocoa powder
2 tsp baking powder
2 tsp baking soda
4 tsp cinnamon
1 cup walnuts, chopped
Directions
Preheat oven to 350 and line a muffin tin with silicone liners.
Crack the eggs into a large bowl and beat well. Add the honey, coconut oil, almond milk and vanilla and continue to beat. Fold in the zucchini and set aside.
In a separate bowl, mix the flour, cocoa powder, baking powder, baking soda and cinnamon.
Add the dry ingredients to the wet ingredients and fold in 1/2 cup walnuts. Stir just until mixed.
Spoon mixture into muffin liners, top with remaining walnuts and bake for 30 minutes or until a toothpick inserted in the centre of the chocolate zucchini muffins comes out clean.
FOR 2 MUFFINS: CALORIES: 501, FAT: 33 g, SAT. FAT: 24 g, CARBS: 57 g, FIBER: 11 g, SUGARS: 32 g, PROTEIN: 11 g, SODIUM: 470 mg, CHOLESTEROL: 55 mg