To celebrate the summer, the upcoming long weekend, and the release of my new cookbook Healthy Fresh Salads, I decided to host a giveaway! I also rounded up a bunch of healthy summer salads you can enjoy over the long weekend.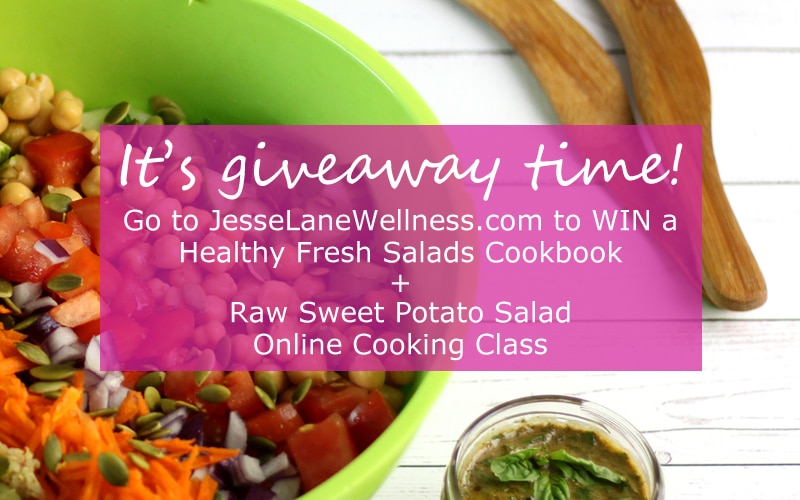 I'm so excited to give one lucky winner a copy of my cookbook Healthy Fresh Salad and my Raw Sweet Potato Salad online cooking class! The giveaway is open to everyone worldwide and will run until August 2, 2016, at midnight. There are multiple ways to enter, good luck!
---
 8 Healthy Summer Salads
If you are looking for yummy and healthy summer salads, I have rounded up from awesome ones! Many of these refreshing recipes are gluten-free, no soy, dairy-free, sugar-free, vegetarian, vegan, and paleo.
Asian Salad with Shrimp
This healthy summer salad by Kristen Jakobitz is full of fresh Asian flavours. It is topped with shrimp which makes it a filling meal and can easily be made gluten-free if you swap soy sauce for tamari. Get the recipe.
Vegan Greek Power Salad
This healthy summer salad by The Mostly Vegan is jam packed with yummy, filling things like red quinoa, kalamata olives, cucumber, cherry tomatoes, and Marcona almonds. It's a salad that eats like a meal. Get the recipe.
Smoked Tofu Apricot Salad
Smoky, smooth tofu, chewy apricot & a colourful salad, tossed with an awesome creamy Asian-inspired apricot dressing. This salad by A Virtual Vegan is healthy, fresh, vibrant & delicious! Get the recipe.
Yummy Kale Beet Salad

This healthy summer salad by Sonya Nutrition is ready in minutes, which is perfect for the summer because who wants to spend time in the kitchen when the weather is beautiful. Get the recipe here.
Kale and Sweeet Potato Salad
Kale and Sweet Potato Salad by Dr Alexsia Priolo is easy and delicious. You can  add in whatever extra vegetables that you have in the fridge or out in the garden. Since the kale leaves are tough, you don't need to worry about the leaves wilting too much if you have leftovers (I think it tastes even better!). Get the recipe.
Strawberry Avocado Kale Salad
When strawberries are in season, this refreshing and healthy oil-free Strawberry Avocado Kale Salad with coconut and hemp seeds is the perfect salad to make. This salad by Veggies Save the Day is full of summer flavours. Get the recipe.
Creamy Kale Salad
The creamy cashew dressing on this kale salad by Apples N Almonds is way too good to be healthy!  The taste resembles caesar dressing, but now you can enjoy it without the guilt.  Made only pure, natural ingredients, you're getting a full-on healthy meal. Get the recipe.
Grilled Summer Salad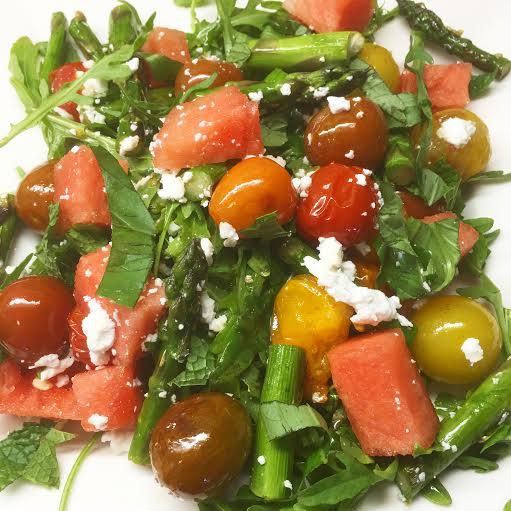 The warm weather is here and it's easy to get fresh local veggies so it's time to shake up your salad routine with some seasonal, local goodness! If you want a healthy alternative to hot dogs and burgers at your next social barbeque, try this salad by Radiant Health Revolution. Get the recipe.