3 Health Benefits of Diffusing Essential Oils
I have always been a big fan of essential oils! I love how they add scent naturally to homemade beauty products, can be applied topically to help with a variety of health issues, and how well they work to clean my home. Recently, I got into diffusing essential oils with an ultrasonic diffuser and now I'm hooked! I'm excited to share 3 health benefits of diffusing essential oils.
Before we get into my health benefits of diffusing essential oils, I'll explain what I use to diffuse.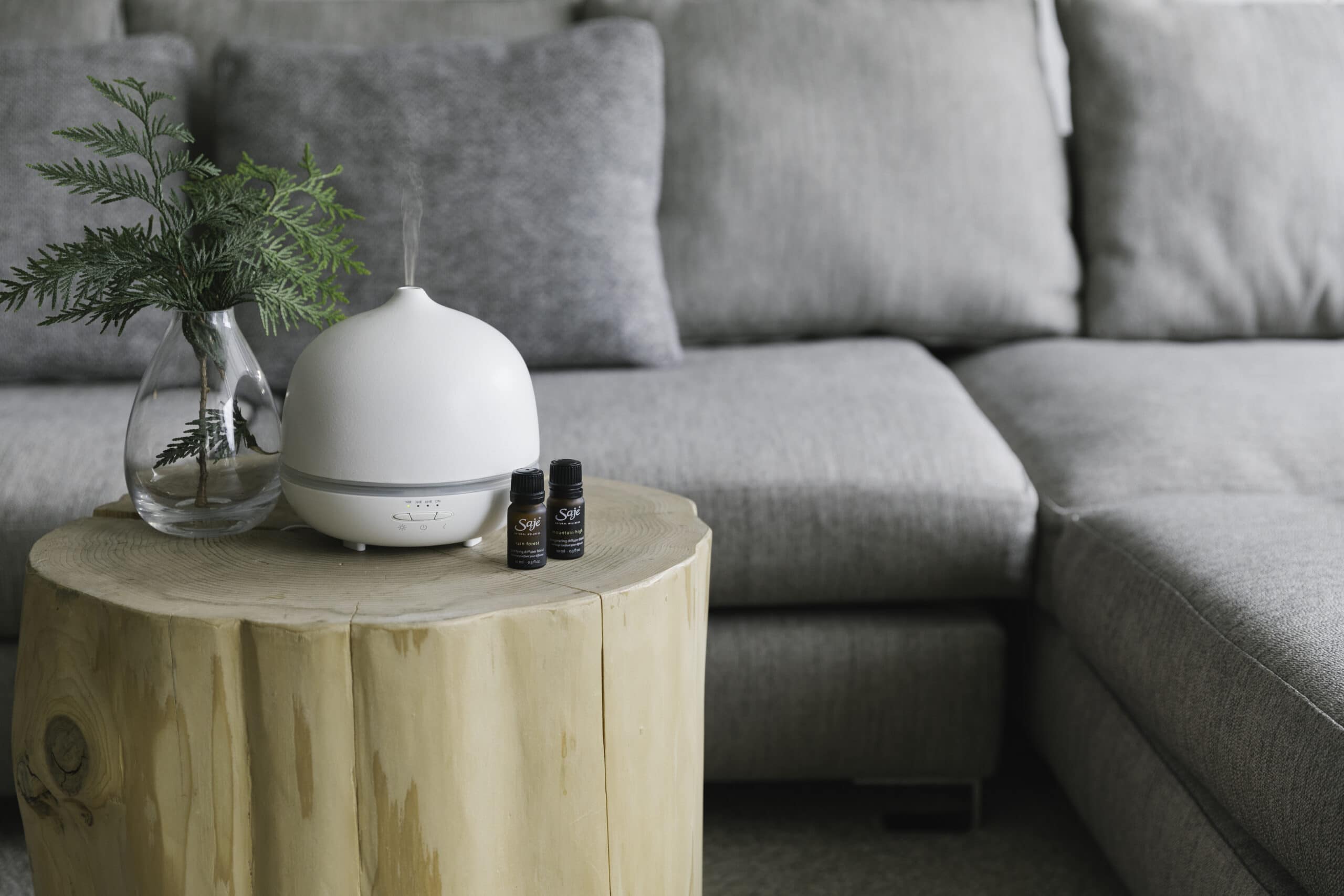 Do you know the difference between a diffuser and a humidifier? I didn't until I did some research. Diffusers can take you to a healthier place, no matter where you are. Not only do they humidify the air, but they also release essential oils that have awesome health benefits. With a touch of a button, this amazing technology will deliver plant medicine to your bedroom, kitchen, office, or hotel room.
3 Health Benefits of Diffusing Essential Oils
Stress reduction
Stress affects our health, our relationships, energy levels, and our productivity. A study done in 2014 found that 30% of employees in the US experience high levels of stress in the workplace. Talk about a productivity crisis! Knowing how to relax at home and work is a great place to start when looking to improve your overall wellbeing.
I like to diffuse blends that help me feel calm and focused while I work. Right now my favourite is Rainforest from Saje Wellness.
Mood enhancing air freshener
I live in a small condo and I struggle to keep the air smelling fresh. I'm often playing kitchen making the whole condo smell like food. Which is fine at the time, but I don't want to wake up in the morning smelling last night's curry or fish. We also have a baby who is now producing progressively stinky diapers. We keep them in a diaper pail, but the smell still escapes.
Diffusing essential oils helps my tiny condo smells great all the time AND they make everyone in the condo happy. Essential oils have the ability to lift your spirit and mood. After recipe testing or cooking dinner, I love to diffuse Unwind. It is a fresh, nurturing, and balancing blend of essential oils that has an uplifting effect on our moods.
Helps promote sleep
A good night's sleep is so important. It improves memory and makes problem-solving easier. This is because your brain is organizing everything you took in from the day and prepares for the next day by forming new pathways. When you don't get a good night's sleep, your brain function can become impaired. This can lead to trouble making decisions, solving problems, controlling your emotions, and dealing with change.
With a baby at home, I try to get as much sleep as I possibly can! At night I diffuse Tranquility to make sure everyone has a good sleep.
Essential Oils and Pregnancy
When I became pregnant I did a quick search and discovered that not all essential oils are safe for pregnancy. Essential oils can actually cross through the placenta to your baby. Since essential oils are so popular, I added a section about essential oil safety for pregnancy in my book Healthy Holistic Pregnancy. If you are an essential oil junky like me and are pregnant or trying to conceive, you will want to read that section of my book.
Learn more about my book here.
Today's post is about the health benefits of diffusing essential oils is in partnership with Saje Wellness. Opinions are always my own and I only review companies and brands that I truly believe in and love. If you are interested in sharing your product on JesseLaneWellness.com, please email info@jesselanewellness.com.