How to Eat Seasonally on Breakfast Television
Today I'm excited to be a guest on Breakfast Television to give you tips on how to eat seasonally and give you a sneak peek into my summer corporate wellness lunch & learns and cooking classes! My segment aired on August 5, 2022, at 9:40 am ET and you can watch the replay here. I have three team-building cooking classes I'm running at the moment and I'm excited to share 4 recipes from the classes on Breakfast Television.
Why Eat Seasonally
Eating seasonally has tremendous health benefits. My summer lunch & learn focuses on the benefits of eating seasonally and teaches you how to eat seasonally all year round. I also share what is in season in your area and recipes that use local seasonal produce. If you are interested in more info, please send an email to info@jesselanewellness.com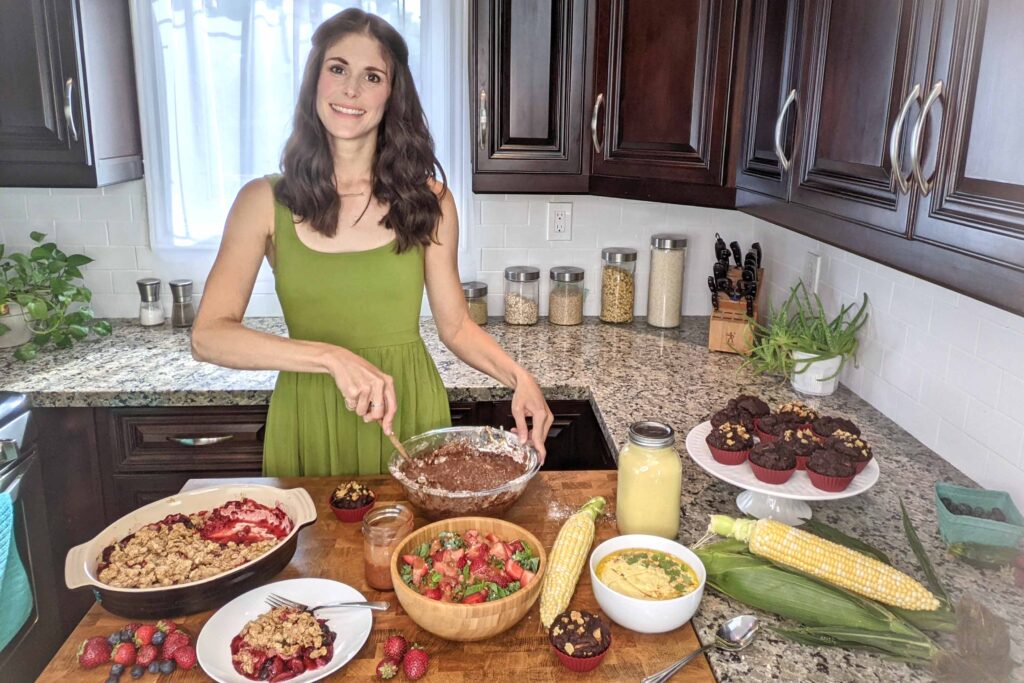 Here are some health benefits of eating seasonally
Seasonal foods are often local foods, which travel a shorter distance to get to you! This means that they hang on to more of their nutritional value since they are being grown and picked at the right time. Out-of-season foods from far away may have to be picked before they're ready, meaning you lose out on essential nutrients and flavour!
Speaking of flavour! Seasonal foods make for better ingredients because they're jam-packed with flavour. This is because they're allowed to spend more time ripening and less time travelling to get to you!
It's cheaper! Less transport means fewer costs and fewer spoiled items. Growers have an abundance of produce and a short window to sell it meaning you get a great bang for your buck!
A lower carbon footprint. If you're conscious about your impact on the environment, seasonal eating is a great trick to reduce yours! Reduced transportation and fewer preserving methods allow your food to get to you with less impact!
Supporting your local community! More and more, local farmers and growers are losing out on business to big chains and grocery stores. Buying local and in-season means you're supporting individuals and families in your local community!
Seasonal Recipes from my Breakfast Television Segment
Chocolate Zucchini Muffins
My mother-in-law's garden is bursting with zucchini right now and it is abundant at the farmer's markets. Zucchini is high in mood-boosting folate, fibre, vitamin B6, and vitamin C.
Who doesn't want to start the day with chocolate zucchini muffins? Chocolate can actually be healthy if you are eating it the right way (without tons of sugar). It contains Phenylethylamine (PEA), which is the chemical known to inspire happiness, clear-mindedness, focus, and wakefulness. These muffins are sweetened with honey and packed with healthy fat from coconut oil and walnuts. Chocolate zucchini muffins are sure to boost your mood, especially when paired with a cup of tea! Get my Chocolate Zucchini Muffin Recipe here or learn how to make them during my Savoury and Sweet Zucchini team-building cooking class.
Strawberry Arugula Salad with Strawberry Balsamic Dressing
Strawberry Arugula Salad with Strawberry Balsamic Vinaigrette is the perfect way to celebrate strawberries with a savoury dish. We so often use them in desserts, it is fun to mix it up! The strawberries complement the peppery arugula and toasted pecans so well and the basil adds a fresh twist. You can find strawberries in abundance at the farmer's markets this time of year and my garden is bursting with basil. I actually used kale during the TV segment because there was so much at the Farmer's Market. Get the recipe here.
Coconut Curry Corn Soup
Corn is so delicious when it is in season! This simple and quick soup recipe really lets the sweet corn flavour shine. It also uses onion, garlic and cilantro which you can find at your local farmer's market so you can really eat seasonally. Coconut Curry Corn Soup is perfect for late summer and early fall. Get the recipe here or learn how to make it during my Embrace the Corn Harvest Team-Building Cooking Class.
Triple Berry Crisp
I love pie but honestly don't always have the patience to make pie crust, enter crisp! Triple Berry Crisp is such a yummy way to enjoy all of the berries that are currently in season. This week at the farmer's market I found rows and rows of strawberries, raspberries, and blueberries. The best part, this is a super easy gluten-free dessert so healthy you can eat it for breakfast. I love to eat it with plain Greek yogurt in the morning or with vanilla ice cream for dessert. Learn how to make it during my Celebrate Strawberries Corporate Cooking Class.
How to book virtual team-building activity
Interested in bringing summer into the office with my virtual team-building activities? Feel free to email me at info@jesselanewellness.com for more details, or check out my Corporate Wellness page! See you soon!