Holistic pregnancy products I can't live without
There are so many holistic pregnancy products that marketing and pregnancy must haves. It can get really confusing and make you feel like you need to buy everything! I decided to simplify it for you. Today I'm sharing two of the holistic pregnancy products that I used the most during my pregnancy – prenatal vitamins and stretch mark butter.
But before I get into my fav holistic pregnancy products, I want to talk to you about my new book that I created for pregnant mamas. Healthy Holistic Pregnancy provides you with detailed information on the best foods to eat and key supplements to take to support your growing baby. It also explains in detail which supplements and superfoods you may want to avoid due to safety concerns.
Pregnancy can also come with many discomforts and symptoms; the good news is there is something you can do about it! Healthy Holistic Pregnancy provides natural solutions for over 25 common pregnancy symptoms including morning sickness, stretch marks, fatigue, and back pain.
Buy my book Healthy Holistic Pregnancy. 
Holistic pregnancy products I can't live without
Prenatal vitamins
While I was pregnant, I took probiotics, prenatal vitamins, and a fish oil supplement daily. I also had a pregnancy specific digestive enzyme for meals that I knew my body would struggle to digest. This combo worked really well for me because I have underlying digestive issues, but you might need to take a totally different handful of supplements depending on what health issues you were experiencing before getting pregnant. A qualified holistic nutritionist like me can help you determine which supplements are best for you and your baby's needs.
That being said, you can't go wrong with a good quality prenatal vitamin.
We can get lots of nutrients from our food, but your body's demand for nutrients is so much higher when you are pregnant. It is a good idea to take a prenatal vitamin to make sure you and your baby thrive. My favourite prenatal is Garden of Life Vitamin Code Raw Prenatal from GoodnessMe. It contains all of the essential nutrients to support the pregnancy, ginger for nausea, and an organic fruit and vegetable blend.
I like that it is taken 3 times a day. This means that your body has time to digest and absorbe the smaller dose properly instead of creating expensive poop. It is also great because you are continually getting water soluble vitamin C and B vitamins that don't stay in the body for very long.
Stretch Mark Butter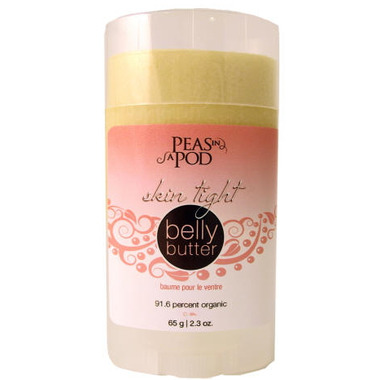 During pregnancy your belly, butt, boobs, and thighs can grow and expand quickly causing stretch marks. The average woman should gain between 25-35lbs. If you are underweight you need to gain more and if you are overweight you might gain a bit less.
Stretch marks appear when the skin becomes overstretched and the fibres in deep layers tear. About 90% of women will get stretch marks during the 6th or 7th month of pregnancy, so you are not alone. If your mom has stretch marks, then you are more likely to get them since they can be genetic.
The bad news is that stretch marks don't go away. The good news is that they fade with time and there is a lot you can do to prevent them.
One of the best ways to prevent stretch marks is to massage with a nourishing oil or butter daily.
You can start in the first trimester so that you are in the habit of doing it daily. One of my favourite products was Peas in a Pod Skin Tight Belly Butter from GoodnessMe. I love that it comes in an easy to roll on applicator and it smells amazing! It is also packed with clean ingredients like certified organic fair trade shea butter, organic mango and cocoa butters, Vitamin E, and organic skin regenerating essential oils. It is designed to lubricate and give elasticity to stretching skin.
For more tips on how to reduce stretch marks, check out my FREE ebook Natural Remedies for Pregnancy Symptoms. I share even more ways to reduce stretch marks and discuss how to reduce morning sickness and heartburn.
If you live in Canada you can save some money when ordering these holistic pregnancy products! Use GoodnessMe coupon code "FIRST10" to get 10% off your order!
Today's post is sponsored by GoodnessMe. Opinions are always my own and I only review companies and brands that I truly believe in and love. If you are interested in sharing your product on JesseLaneWellness.com, please email info@jesselanewellness.com.