Healthy Holiday Gift Guide: Do's & Don'ts
I'm so excited to share this healthy holiday gift guide! The holidays are in full swing and it's such a magical time of year! Hot cocoa, twinkly lights, fluffy snow, and obviously – presents! Gift-giving is one of my absolute favourite aspects of the holidays. Seeing someone's face light up when they see the festive packaging their gift was wrapped in, then the excitement that comes from discovering what's inside! I live for those moments, they make the holidays so special to me.
My name is Nia, I'm a Holistic Nutritionist, Autoimmune Thyroid Coach, and Contributor here at Jesse Lane Wellness. Together we're going to spread some healthy holiday cheer with this Healthy Holiday Gift Guide including all of my do's and don'ts for giving perfect presents!
If you're like me you love to give gifts, it might even be more exciting than receiving them! When it comes to gift giving, they say it's the thought that counts. Let's have some food for thought and dig into why some gifts might be a healthier choice than others in this Healthy Holiday Gift Guide.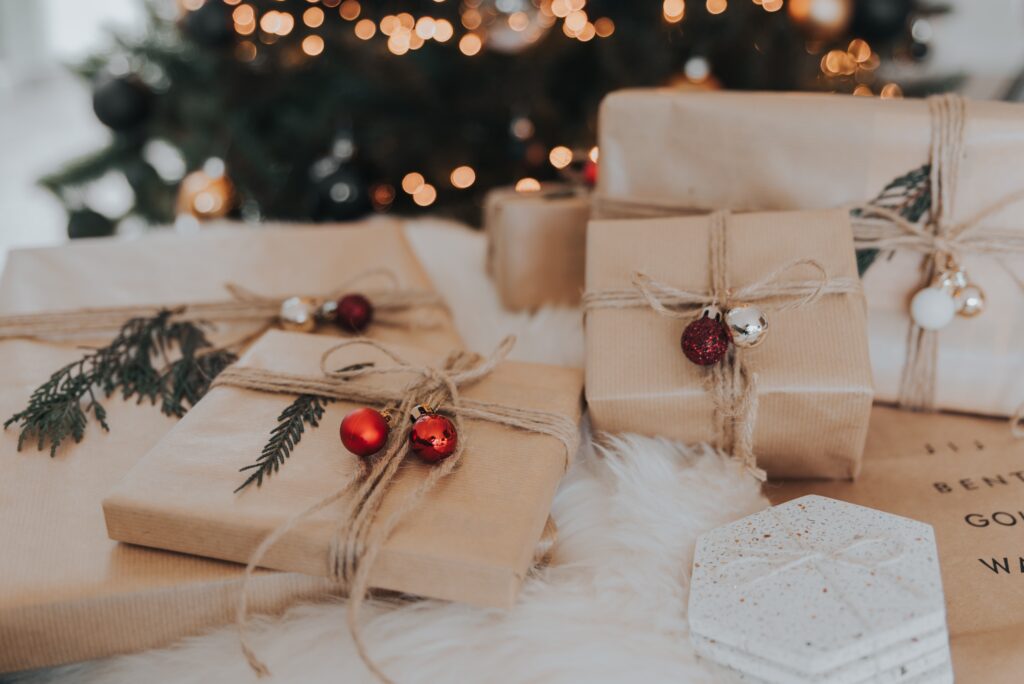 Healthy Holiday Gift Guide: Do's & Don'ts
DON'T: Blow Your Budget
This is first and foremost because, in my opinion, it's the fundamental rule of gift-giving. There are a few reasons why budget matters when exchanging gifts.
Blowing the budget is the quickest way to cause yourself stress. Stress can lead to illness, fatigue, and more unpleasantness that you don't want to deal with during the holidays. Not to mention, overspending during the holidays means you might have to make some unexpected sacrifices the following year. The remedy? Be prepared!
If you're like me you have a whole list of people to buy for, close family, extended family, friends, everyone gets something. But that can add up very quickly.
Asking your friends and family to put a cap on holiday spending can go a long way. My family takes part in the Secret Santa tradition. Instead of buying gifts for everyone, we all buy one gift for one specific person. Blowing the budget and buying something really extravagant can also create friction in your inner circle. There is nothing more awkward than spending hundreds of dollars on a person and then having them gift you something really inexpensive. This has 100% happened to me. And you might think that because you love gift giving so much and don't care what someone got you, it doesn't matter. But other people can be left with hurt feelings and stress about having to match your extravagance the following year.
The moral of this story is to set a total and individual limit of spending. Track your spending as you buy your gifts, and have open conversations with loved ones about what's reasonable to spend. Following these rules will get you through the holidays with more money in the bank and a joyful gift-giving experience.
DO: Give Gifts With Low Waste Packaging
According to Stanford University, Americans pitch 25% more garbage than usual during the holiday seasons. We're all trying to be more environmentally conscious these days. Our planet is in serious trouble and every effort helps. That's why gifting items that produce little waste is a great thing to consider. Strategies for reducing waste come in many forms. Purchasing locally made, sourced, or sold items is a great option. It reduces the carbon emissions that shipping would produce. 
When you're buying an item its packaging is also important because you know that part will be thrown out right away. Opt for items that come packaged in paper, cardboard, or that you can package yourself. If you are wrapping or packaging an item yourself, try to source out recyclable paper, cards and decorations. Buying sturdy decorative boxes or containers is great too because your recipient might reuse or donate them instead of throwing them out! In my family, my parents are the keepers of our wrapping. They have a big bin in their basement filled with holiday bags. Each year we borrow some bags for gift-giving and then return them to be reused the following year. 
Lastly, think of the end life of the item. Are you buying something that is going to be disposed of quickly, or are you buying something that will last? What is the item made of, and could it be donated for someone else to use if the recipient grew tired of it? These are all great things to consider when shopping to reduce your holiday gift waste!
DON'T: Give Unnecessary Stuff
This is one where I love to enlist my elves (aka friends and family) to help me find the PERFECT gift for someone. The problem with getting gifts you don't need like clothes or knick-knacks is that they're hard to part with since they're a "gift". I can't even tell you how many trinkets and sweaters I've held on to that I didn't want or need, simply because I felt bad that someone had picked them out for me.
This has created a lot of clutter in my life. Clutter is known to cause added stress, difficulty focusing, and excess dust leading to respiratory issues and allergies, weight gain, and insomnia. Yikes!
But it's easy to prevent this faux pas by gifting someone something that they really need, or something that they can consume! I'm not saying don't buy your sister-in-law that gorgeous pewter picture frame you overheard her talking to your mom about at Thanksgiving. She said she wanted it. There's a special want/need met that she will actually treasure for a long time.
But what if your sister-in-law didn't tell your mom at Thanksgiving that she wanted a picture frame? In that case, opt for consumables! That could mean artisan bars of soap, a jar of homemade cookies, tickets to the theatre, a dinner for two, a subscription to their favourite streaming service, and the list goes on! Anything that some can use and consume is the perfect low-waste gift that won't cause extra stress or clutter!
DON'T: Give Alcohol
I am ten thousand percent guilty of gifting alcohol. This rule might not apply to someone who has niche drinking tastes, or loves a holiday drop of Bailey's in their coffee but would never buy it for themselves. However, it's not the best choice for everyone.
While it's nice to indulge in a drink or two over the holidays, having tons of gifted alcohol around can encourage excess drinking. The University of San Diego found that quitting or reducing alcohol consumption was among the top 12 most common New Year's resolutions. If the recipient of your gift is quietly struggling with drinking, an extra bottle of alcohol might make it harder for them to quit.
The holidays can also be a tough time for people. Many people are dealing with family issues, stress from work, loneliness, or the like that can be exacerbated by the cheeriness of the holiday season. A depressant like alcohol may not be the best thing to have on hand when someone is experiencing those feelings.
And unless you're buying for someone who has very specific tastes and regularly, happily, enjoys a specific alcohol, it can actually be a rather impersonal gift. Do your best to get to know someone's interests. Think about their hobbies so you can give them a gift that will uplift their spirit, and that they will enjoy with a happy heart.
DO: Gift Healthy Homemade Goodies
Healthy homemade goodies are the ultimate gift. They wrap everything we've talked about above into one. They're low budget compared to store-bought, you can put them in reusable tins for low waste, they're consumable, and you can personalize them to suit your recipient perfectly!
Everyone loves holiday treats. It's one of the magical wonders of the holidays. Cookie trays have been a tradition in my family for a long time. My grandmother used to make them (she was the ultimate old-school baker), and now my mom does too. And for the last few years, I've watched my mother plan and schedule out when and how she's going to make her 10+ varieties of cookies for her trays. 
I have a number of allergies and my partner is vegan so it can be tricky navigating which treats to eat from a pre-prepared plate. It's also a challenge for my mom to accommodate everyone and everything.
Gifting your own special treats can mean the world to someone like my mom who works so hard to make holidays special and appreciates any holiday help she can get. Or for someone like me who is allergic to everything under the sun. My whole life I was often excluded from desserts and treats because of my allergies which detracted from the holiday magic a little. If you know someone who has allergies or strict dietary needs, a jar of inclusive holiday treats can be more magical than any other gift they get!
Below I've listed some of Jesse's delectable holiday sweets for you to gift your loved ones. Tip: Gift them in a mason jar with a fabric bow and a handwritten tag with all of the ingredients!
Healthy Holiday Corporate Cooking Classes
Bring the holidays into the office with seasonal eats in Jesse's Holiday Cooking Classes! Choose from Candy Cane Treats for crunchy blondies and bark, Chocolate Peppermint for cookies and truffles, or Elevated Gingerbread for squares and a hot toddy! Bonus is that all of these classes double as a happy hour with delicious festive drink substitutions!
Email info@jesselanewellness.com for details and pricing!
Healthy Holiday Gift Guide: Healthy Goodies To Gift This Season
Oatmeal Eggnog Cookies are a delicious way to capture that irresistible holiday flavour. They are soft and chewy with that warm nutty nutmeg flavour. If you are an eggnog lover, then you will love these cookies. Oatmeal eggnog cookies don't actually contain eggnog, they are vegan and gluten-free!
Vegan Gingerbread Cupcakes are moist and sweet with a hint of warming ginger and zesty orange. They are topped off with smooth Spiced Date Icing and a sprinkle of orange zest for colour!
Candy Canes add a festive peppermint crunch to these healthy gluten-free brownies. Filled with protein, fiber, and festive flavours, these gooey brownies are the perfect bite-size holiday treat!
Chocolate Hazelnut Truffles are a decadent dessert with a creamy hazelnut centre encased in a dark chocolate shell. These delicious truffles are gluten-free, vegan and super easy to make. They're so pretty, your family and friends will jump for joy when they receive these inclusive treats!
Hi, I'm Nia!
I'm a holistic nutritionist & lifestyle coach at Immunealong, teaching those with autoimmune thyroid disease how to live well and thrive!
I began this business for two reasons. I've spent my whole life struggling to feel well with multiple autoimmune diseases. The cherry on top was my Graves Disease diagnosis in 2016 which left me bedridden for a year. I was determined to get well, and after years of trial, error, and research, I took myself from bedridden and depressed, to alive and thriving using these strategies! Now I want to help people just like me to live well and thrive despite their illnesses!
In my spare time, you'll find me hunting for inclusive plant-based goodies, vibing with my crystal collection, or submerged in a fancy bubble bath!
Connect with me @immunealongwithnia on Instagram, on my website, or via email! Let's thrive together!
Gift photo by Lore Schodts on Unsplash