Pineapple Shrimp Fried Millet
Similar to fried rice, Pineapple Shrimp Fried Millet packs savoury, salty, sweet and umami flavours all in one nutritious meal. 
I love millet because of its anti-inflammatory properties and nutrient-dense profile. This recipe stars two ingredients that you might not think to pair together, or even add to your weekly grocery list. But millet and shrimp and a match made in heaven.
They both contain tons of healthful minerals and have anti-inflammatory properties as well.  Inflammation is a silent condition that can show up in many forms, from joint pain to digestive issues. By filling your plates with certain nutritious foods that contain powerful anti-inflammatory properties, you can aid your body in the healing process!
I also can't resist a hefty dose of vitamin C (plus enzymes) this time of year, and I love reaching for juicy pineapples to get it. This is going to be your favourite twist on fried rice, bonus is it's on the table in less than an hour!

Pineapple Shrimp Fried Millet Recipe
gluten-free & dairy-free
Prep time: 15 minutes | Cook time: 30 minutes | Serving size: 3
Ingredients 
1 cup dry millet

2 cups veggie broth

1 tbsp coconut oil

1 small white onion

1 lb medium raw shrimp, peeled and deveined

1½ cups diced pineapple

1 red bell pepper, diced

2 tbsp grated fresh ginger

2 cloves garlic, minced

1 cup frozen peas

1 large egg

2 tbsp low-sodium tamari

2 green onions, sliced

3 tbsp chopped fresh cilantro
Directions
Toast millet in a dry pot over medium heat until lightly browned, about 4 minutes. Add broth and bring to a boil; reduce heat and simmer for 15 minutes. Remove from heat and let sit covered for 10 minutes.

Heat oil in a large pan on medium heat. Add onion and cook until translucent, about 5 minutes. Stir in shrimp, pineapple, bell pepper, ginger and garlic; sauté for 5 minutes. Stir in millet and peas; sauté for 3 minutes.

Push all ingredients to the side of the skillet and crack 1 egg into the open area of the pan and cook and stir until scrambled, 1 minute.

Add tamari and stir until well combined. Garnish with green onion and cilantro

.
PER SERVING (1/3 of recipe): CALORIES: 605, FAT: 12 g, SAT. FAT: 5 g, CARBS: 78 g, FIBER: 12 g, SUGARS: 14 g, PROTEIN: 46 g, SODIUM: 965 mg, CHOLESTEROL: 281 mg
Health Benefits of Millet
If you've never had millet before you're in for a healthy surprise! Millet is a small ancient grain that looks like a tiny round bead. It is an important staple in Africa and has been cultivated for over 8,000 years. Although it is generally used as birdseed in North America, millet has many health benefits that include:
Manganese and phosphorus which support bone health

Millet is a heart-healthy grain because it is high in magnesium which lowers high blood pressure

Gut cleaning insoluble fiber which prevents constipation and helps prevent gallstones

Millet is gluten-free, hypoallergenic, anti-inflammatory, and has an alkaline effect on the body
Health benefits shrimp
Shrimp is another food we don't think about enough. When planning a seafood dish my go to's are always, well, fish. But these little crustaceans are filled to the brim with nutrients that keep us feeling healthy.
Cooked shrimp contains 24g of protein per 100 grams. In this recipe you'll get 4 times that amount! Protein provides us with energy, allows us to build or repair our muscles and bones, it also helps us make hormones to keep us feeling balanced and enzymes to help our bodies function.
Shrimp is also high in minerals! Let's break down shrimp's mineral profile:

Calcium builds bone structure, helps with blood clotting, and regulating muscle movements.

Magnesium supports the nervous system, aids muscles, and supports cardiovascular function.

Phosphorus maintains our tissues and cells, as well as our DNA and RNA. Phosphorus, like calcium, works to maintain our bones and teeth. It also allows us to effectively utilize all of the vitamins and minerals we take in like vitamin D.

Potassium gives us energy, it maintains the fluids within our cells keeping us hydrated. It aids the nervous system and helps our muscles function too!

Shrimp is an excellent health food because it contains all of these PLUS an extensive profile of healthy fats to reduce inflammation and keep our brains functioning!
Try this recharging recipe after a long busy day to help your body rest and recover!
Under-An-Hour Anti-inflammatory Fish Recipe Roundup
If this post has sparked your curiosity about inflammation and inflammatory foods, then try these yummy fish recipes to tackle it!
Check out my article Why you should be taking fish oil, to find out more about the importance of including marine foods in your diet! Want to do a deeper dive? My article on How Your Diet Could Help Reduce Inflammation gives you everything you need to learn!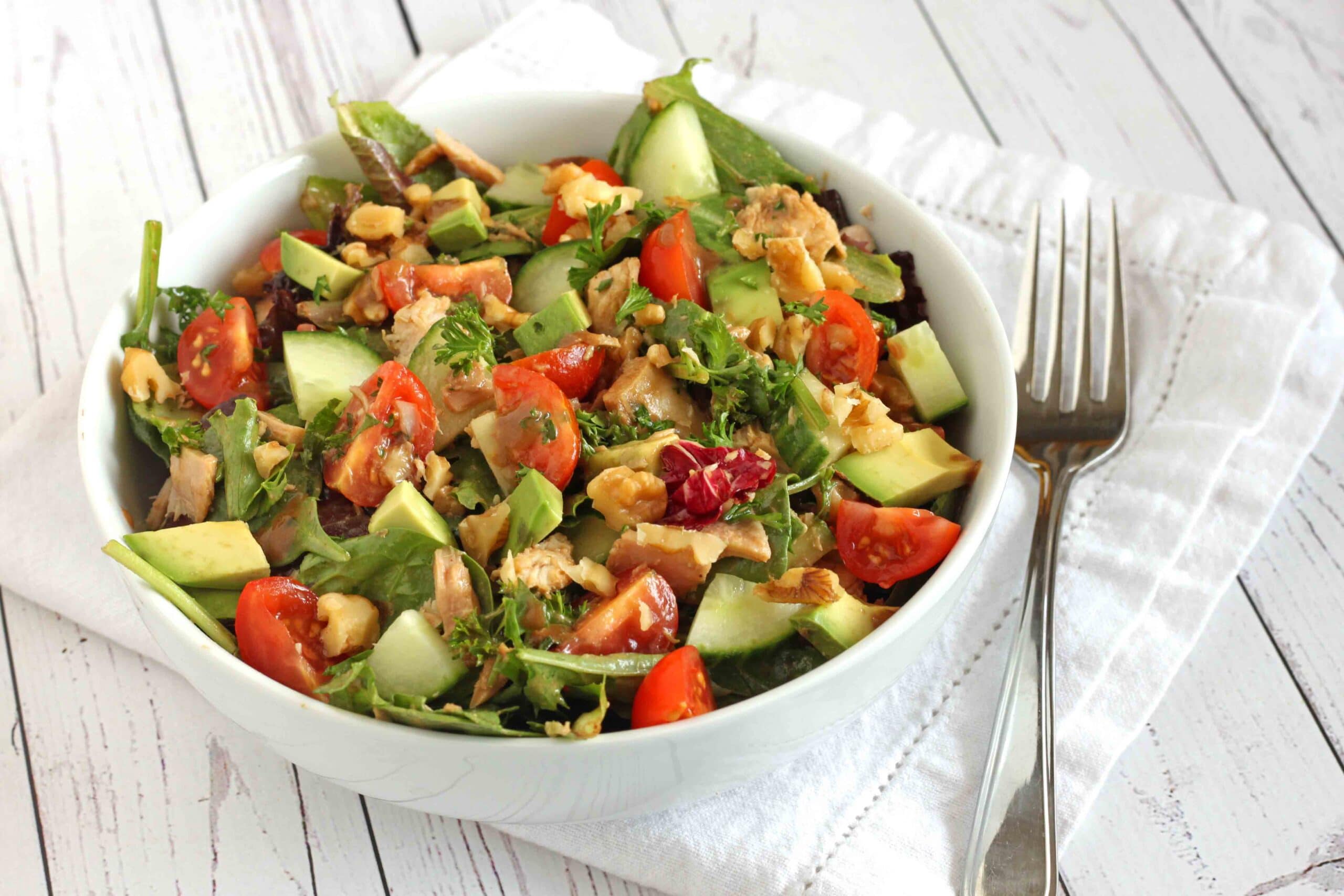 If you are looking for a yummy and nutritious salad that you can make in 15 minutes, then my Super Simple Paleo Tuna Salad is for you! It is high in healthy fats from the tuna, olive oil, avocado, and walnuts to keep you feeling satisfied from lunch until dinner. Those healthy fats also make this dish anti-inflammatory! Greens, tomatoes, cucumber, and parsley add a dose of hydration, and are jam packed with anti-inflammatory nutrients! Take this as a weekday lunch with dressing on the side, or make this as a speedy dinner to help you recharge after a long workday!
Another super speedy anti-inflammatory recipe! Detox Pesto Salmon with Pesto Quinoa and Steamed Broccoli is a flavourful way to support the liver and the body's detoxification system (and also reduce inflammation). This recipe uses another healthy grain in place of more refined carbohydrates. Quinoa provides fiber and minerals to reduce inflammation. Salmon is super high in omega 3's making it perfect for reducing inflammation.   It is so easy to dress up salmon and quinoa with a flavourful antioxidant-rich pesto. I use homemade pesto for this recipe but if you are short on time, you can buy it pre-made. This meal is perfect for weeknights because it is ready in under 35 minutes (and that's with everything from scratch)! Want to make this recipe even more anti-inflammatory? Swap parmesan cheese for nutritional yeast for some extra B vitamins and no dairy!
Another 15 minute tuna recipe! These Tuna Salad Collard Wraps are the perfect anti-inflammatory lunch, snack, or side to a healthy bowl of soup! With tuna and olive oil giving us our anti-inflammatory fats, these wraps also contain raw vegetables for hydration, prebiotic fiber, and antioxidants. All help to reduce inflammation while keeping us satisfied!