My experience with placenta capsules
Have you heard of placenta capsules? They are something I knew I wanted to include in my postpartum care after I read an article about them in 2011. Since then, it has become a growing trend with celebrity moms like Kim Kardashian, January Jones, Alicia Silverstone, and Katherine Heigl all encapsulating and eating their placentas. Most mammals actually eat their placentas after giving birth so it really isn't that strange. I decided to hire Kelly Maslen to encapsulate my placenta.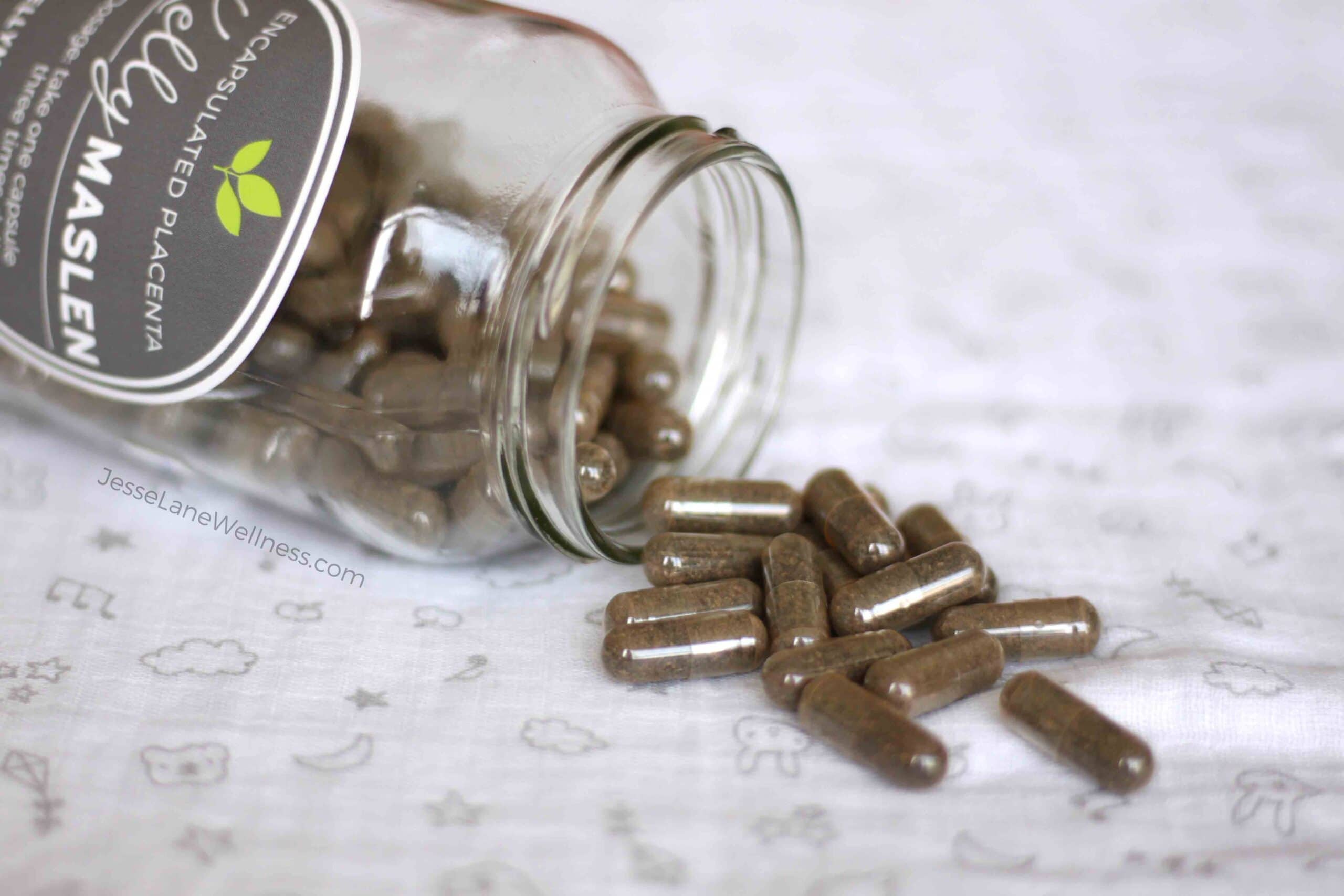 Placenta capsules are a totally natural and easy way to increase your energy, combat postpartum depression, improve milk supply, replenish iron levels, and generally feel better after giving birth. If you are intrigued and want to learn about the health benefits of placenta encapsulation, keep reading. If you are like my husband who is totally grossed out by eating your own placenta, check out my free eBook Natural Remedies for Pregnancy Symptoms which has no mention of placenta capsules!
What are placenta capsules?
The practice of preparing placenta capsules has been used in Traditional Chinese Medicine for centuries. Just after birth, the placenta is steamed with lemon, chilli pepper, and ginger. It is then dehydrated, ground into a powder, and placed in capsules. The placenta capsules look just like regular multivitamins and they are tasteless, so it doesn't feel like you are eating an organ at all.
The placenta encapsulation yields are anywhere between 100-200 and they typically last between 4-6 weeks with regular use. New mamas will start taking the placenta capsules as soon as their milk is fully in and will continue taking them until the capsules are finished. Your placenta encapsulator will give you the correct dosage for the preparation you choose.
Benefits of placenta capsules
Placenta capsules have a number of potential benefits including:
Reducing the risk of postpartum depression
Improving hormonal balance
Replenishing depleted iron levels
Providing more energy and a better mood
Increasing milk supply
Reducing postnatal bleeding
Postpartum depression is very common however the exact cause is not well understood. It is believed that the decline in estrogen and progesterone after birth, nutritional deficiencies, and sleep deprivation are among the contributing factors. The placenta produces estrogen and progesterone, so consuming placenta pills could replenish these hormones. The placenta is also rich in nutrients like iron, B12, B9, and B6. Low levels of these nutrients have been linked to low energy and low mood in new mamas.
Human Placental Lactogen (hPL) and estrogen are two hormones found in the placenta which play a role in breastfeeding. hPL promotes mammary gland growth and estrogen stimulates milk production. Mamas who take placenta capsules could see an improvement in milk supply and flow due to the presence of these two hormones in the placenta.
It is believed that placenta capsules reduce postnatal bleeding because the placenta is high in B vitamins and iron. Both of these nutrients play an important role in tissue healing. For even more information about benefits and studies, check out this in-depth placenta encapsulation guide.
Choosing the right person to create placenta capsules for you
There are some risks associated with placenta capsules so it is important to do your homework. The biggest risk is contamination of the placenta during the encapsulation process. It is VERY important to choose an encapsulator who is experienced and knows how to mitigate these risks.
I decided to have my placenta capsules made by Kelly Maslen. Kelly is a Toronto birth doula, placenta encapsulator, Hypnobirthing instructor, and nutritionist who is passionate about being a Mom. She came highly recommended by my friend and fellow Holistic Nutritionist Andrea Grace.
I loved working with Kelly. Since I was only at the hospital for a few hours after giving birth (birth story coming soon!), she explained how to properly package my placenta to bring it home. She arrived at my house the next day to pick it up and she offered some much-appreciated breastfeeding advice while she was here. A few days later she came back to drop off the placenta capsules. At the time I was worried about my son's latch, Kelly was kind enough to check it for me and to give me tips on how to make our breastfeeding sessions more efficient. Kelly is such a wealth of knowledge it was really great having her support.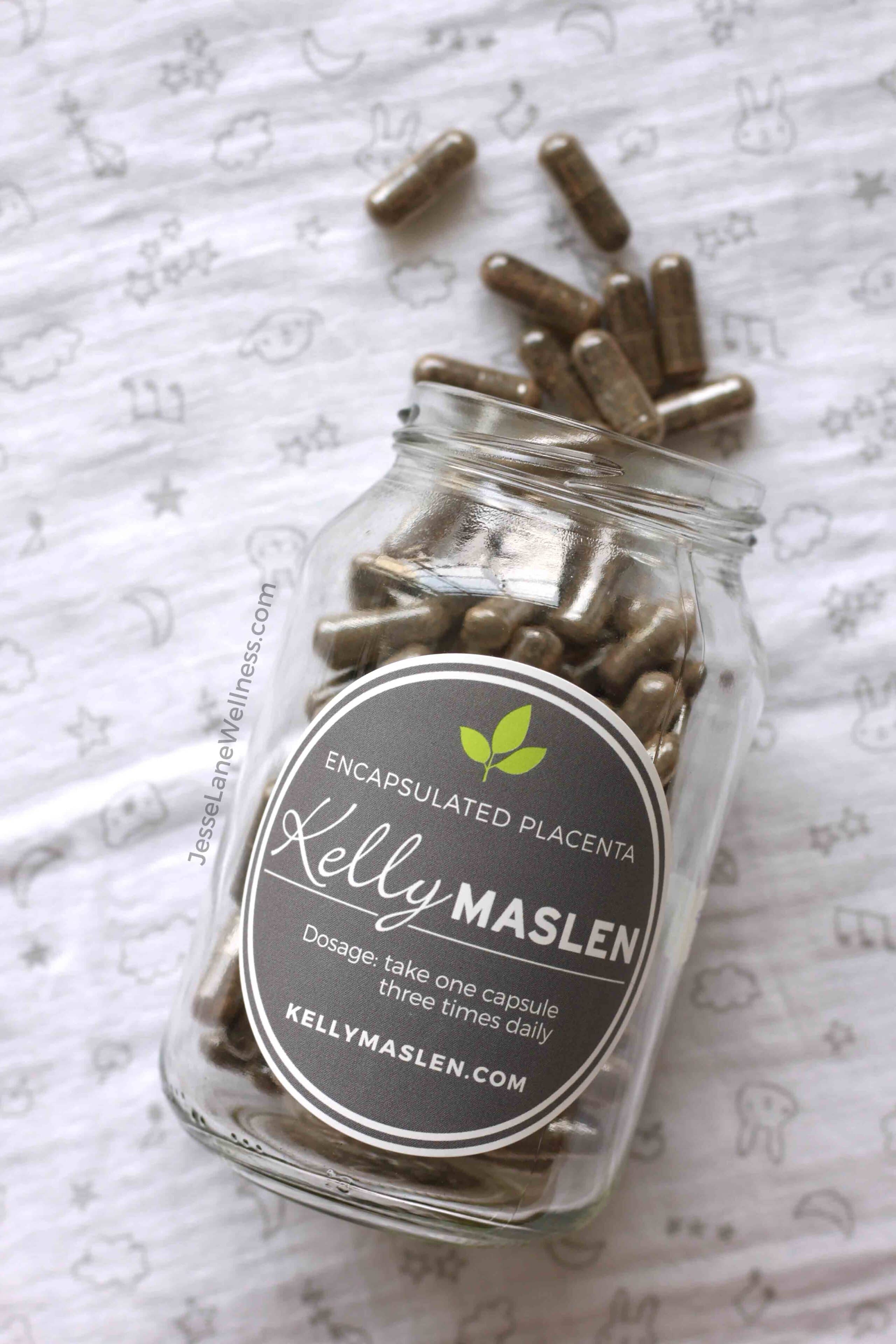 My experience with placenta capsules
I experienced 3 benefits from the placenta capsules:
Being almost always in good mood (my husband says I'm annoyingly happy)
Tons of energy and didn't feel like I needed to nap during the day
Quick recovery
I should mention that this is my first child so I don't have much to compare too. However, I waited two weeks before starting to take the placenta capsules. I found that there were moments within those early days where I found myself feeling down and a bit frustrated with the repetitive nature of each day. After I started taking the placenta capsules my mood was almost always high, even on the days where my baby cried for 15 hours.
I'm usually pretty high energy and that didn't change once my baby was born. The first week I was a bit tired but found napping with my baby really helped. Once my baby's sleep schedule became more predictable and I started taking the placenta capsules, I had so much energy I didn't need to nap. People were always commenting that I didn't look tired at all.
My midwives were really impressed with my recovery and how quick it was. I didn't have a ton of postnatal bleeding and it stopped around the 3-week mark. My uterus also shrank really quickly and my tummy was about back to normal at 4 weeks.
The next time I'm pregnant, I will be asking Kelly Maslen to encapsulate my placenta again. I would also totally recommend it to any mama-to-be.
Healthy Holistic Pregnancy
If you are a who likes to take the natural approach to you health, then you will love my new book Healthy Holistic Pregnancy. It contains:
Natural solutions to 27 common pregnancy symptoms
Superfoods and supplements you may want to avoid when pregnant
15 pregnancy friendly recipes for the first trimester and beyond
Key pregnancy nutrients and supplements for each trimester
Benefits of yoga when pregnant and which poses to modify
Essential oils safety and DIY skincare recipes
This post is in partnership with Kelly Malsen. Product opinions are always my own and I only review companies and brands that I truly believe in and love. If you are interested in sharing your product on JesseLaneWellness.com email jesselanewellness@gmai.com to get a copy of my media kit.