Mood-Boosting Virtual Team Building Events
February can feel like such a strange month. On one hand, we're all super happy and excited to be in love with our sweethearts on Valentine's Day, but what if you don't have a sweetheart? Or what if you're feeling down because we're smack in the middle of a gloomy winter? Or what if you're feeling down and out about things that are totally unrelated to love or the weather? It sounds to me like you could use a boost. And wouldn't you know, my February roster of virtual team building events is specifically targeting those low moods your team might be feeling, whatever the cause!
This month's offerings are all about getting your team back to feeling like themselves, and that starts with boosting mood! Feeling low can impact your personal and professional life. I'm here to help you make some healthy choices that will set you up to get through to the other side of that rough patch!
Virtual Team Building Events: Reduce Stress & Boost Your Mood Lunch & Learn
If your team is feeling bummed out and burnt out then this Lunch & Learn is exactly what you need! In this health-based virtual Lunch & Learn, I'll be sharing with you the link between stress and your mood, as well as what you can do about it. We'll be digging into all of the ways that you can support your mood with my healthy eating and lifestyle tips, specifically for minimizing stress and improving mood! Your team will leave this class feeling energized, uplifted, and empowered!
Each Lunch and Learn takes place virtually over the lunch hour or your preferred time. They have a focus on nutrition and healthy living. Participants will receive a summary sheet for quick reference after the Lunch & Learn. I love to encourage your team to ask as many questions as they'd like to ensure they're getting as much value as possible. I can't wait to help your team start the year off right!
Why Choose My Health-Based Virtual Lunch and Learns?
Healthy virtual corporate wellness classes like these Lunch and Learns are the best way to set your team up for success in the workplace! My corporate wellness sessions are not only team builders but are also educational, informative, and engaging. I'll share practical tips and tricks to help you and your team feel your best. You can email me at info@jesselanewellness.com for more details or check out my Corporate Wellness page to learn more. Please feel free to reach out and ask any questions. I can't wait to support you and your team on your health journeys this year!
Looking For Engaging Virtual Team Building Events? Try An Easy To Follow Online Cooking Class!
Looking for more interactive virtual team-building events to keep your team engaged and excited? Try an easy-to-follow online cooking class! Together we'll make each recipe step-by-step, and all cooking class attendees will receive the recipes before the class. I have so much fun teaching these virtual corporate wellness cooking classes, it really is a great time had by all! Keep scrolling for all of the details.
Jesse Lane was incredibly professional to work with leading up to our employee session on the connection of Mental Health & Nutrition. During the session itself, she brought energy and excitement to the presentation and frequently engaged with participants. Our employees followed up with me afterwards with high praise of Jesse Lane, her knowledge and enthusiasm, and mostly that we can still be healthy and eat chocolate!

Maggie Hall, MES
Specialist Community Relations at Tridel
Virtual Team Building Cooking Classes
I've put together two delicious cooking classes for your team to enjoy this month centred around something we all need a little of this time of year. In these mood-boosting corporate cooking classes, we're going to focus on some very powerful whole foods that support both your body and your mind!
Easy To Follow Online Cooking Class #1: Mood-Boosting Eats
The star of this class is antioxidant-rich, mood-boosting blueberries! Fresh fruits are energizing and so healthy too! They're the perfect way to turn around your gloomy winter mood. Together in this class, we'll be making a Blueberry Ginger Smoothie as well as a Blueberry Quinoa Salad with Honey Glazed Walnuts. You'll be surprised to learn how many yummy, mood-boosting foods we can pack into this cooking class!
Health Benefits of Blueberries
Believe it or not, I actually didn't like blueberries for the longest time, I was a strawberry girl through and through. I'm not sure when I welcomed blueberries into my diet, but now I've been known to eat half a pint of blueberries in just one sitting! And there's a good reason why!
Blueberries are packed with phytonutrients that are both anti-inflammatory and antioxidant-rich. Antioxidants are absolutely essential for neutralizing cancer-causing free radicals and reversing the effects of sun damage.
Blueberries are excellent for the cardiovascular system because they improve blood fat balances by reducing total cholesterol and supporting healthy blood pressure. Blueberries can also help regulate blood sugar levels because they have a low glycemic index and are high in fibre (hello happy gut function)!
Studies have also shown that daily blueberry consumption can also help improve memory. But it's the flavonoids in blueberries that give them their mood-boosting properties. These flavonoids have been known to improve executive function, which prevents low moods and depression! Learn more about the benefits of blueberries and other mood-boosting foods during my Mood Boosting Eats Cooking Class!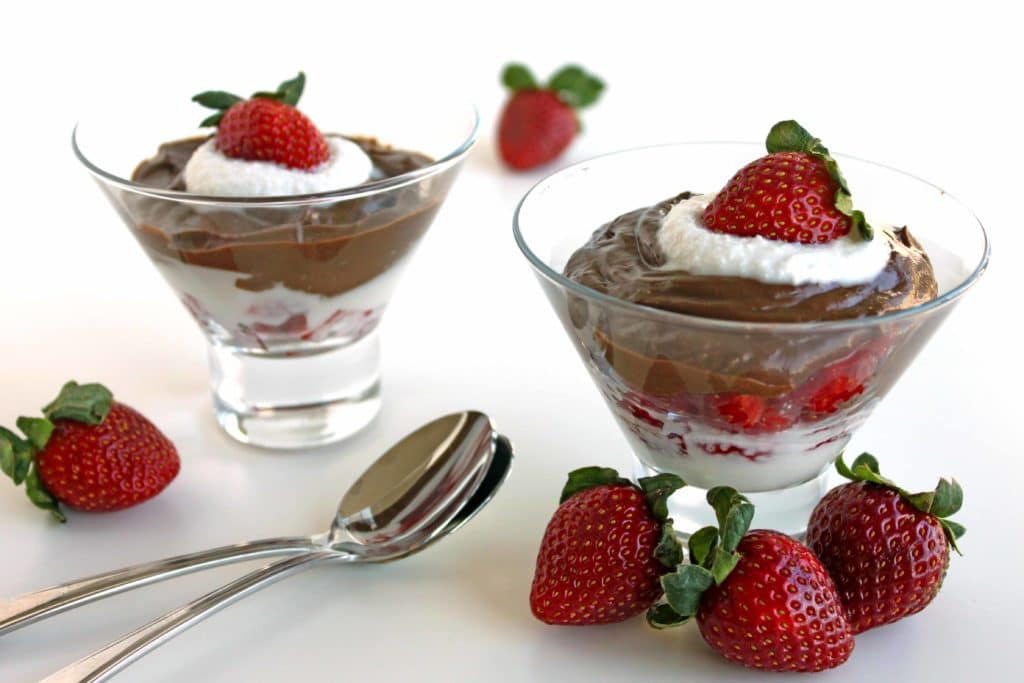 Easy To Follow Online Cooking Class #2: Dark Chocolate Desserts
Ok, whoever said chocolate isn't healthy was definitely lying. Dark chocolate specifically has a ton of incredible health benefits that have the potential to really boost our mood! Together in this delicious Dark Chocolate Desserts Cooking Class, we'll make indulgent Dark Chocolate Chili Brownies and Avocado Chocolate Pudding. Both are perfect for Valentine's Day!
Health Benefits of Dark Chocolate
Did you know chocolate in its most natural organic form is actually good for you!?! Raw cacao (and dark chocolate) in its purest form is jam-packed with antioxidants that counteract the cellular damage that can lead to chronic diseases like cancer or cardiovascular disease.
When cacao is raw, it still has all of its minerals and vitamins. This includes magnesium which relaxes muscles, improves energy, and you guessed it, boosts mood! Raw cacao also contains Phenylethylamine (PEA), which is the chemical known to inspire happiness, clear-mindedness, focus, and wakefulness.
Look for super dark, organic, minimally processed chocolates when buying bars, and organic cacao powder if you want to make your own!
I'm so excited to bring your team into my kitchen for these healthy virtual cooking classes. These classes are engaging virtual team-building events that everyone can benefit from! Let's liven up the office with these delicious, mood-boosting recipes!
Email info@jesselanewellness.com for additional information and pricing.
Why Corporate Wellness Matters
Employee well-being is an organization's professional responsibility to their employees, it's not just personal. Many progressive team leaders are embracing the call for integrated wellness in the workplace as a means to boost employee health and productivity. My virtual team-building events like cooking classes and Lunch & Learns, are the perfect way to bring wellness into the office. My presentations allow you to get to know what health topics are on your team's mind, and create a work environment that strategizes to support its workers. When wellness is in the workplace, team members feel prioritized and cared for, leading to better performance and higher retention. And who doesn't want that?
Register your team today for one of my virtual team-building events! Email info@jesselanewellness.com for details and pricing.
Chocolate photo by Tetiana Bykovets on Unsplash